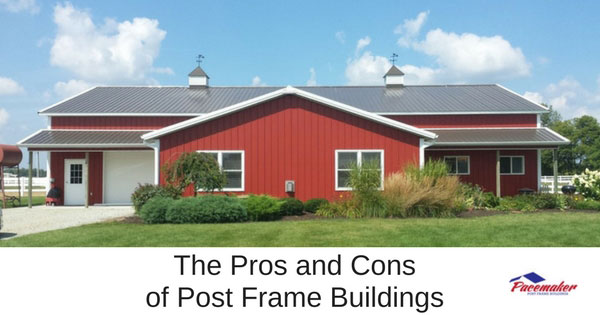 Post frame buildings are rapidly becoming the "go-to" solution for budget-pressed municipalities, school systems, and industrial or retail businesses. The time to construction, energy efficiency, and the abundant clear and adaptable space of the structures makes post framing the optimal solution for many applications.
When compared to traditional framing methods, post frame offers a group of advantages that reduce construction and operating costs, provide superior durability in high wind conditions, and more. Metal or wood stud framing methods also offer benefits, each with its strength and weaknesses
So, how does post frame construction compare to the conventional methods of framing and construction? Below is a list of the pros and cons of post frame buildings versus metal and wood (or stick) frame construction:
Where Post Frame Excels
Cost of Post Frame Building
For most building types, post frame construction is less expensive than metal or standard wood framing. The following factors contribute to the low comparative cost of post frame buildings:
less site preparation
more efficient use of materials
shorter time to completion
less labor
better energy efficiency
Adaptable Design of Post Frame Buildings
Post frame designs can be changed right up to the time that construction is beginning. Also, if expansion is needed, the wide spacing between vertical posts allows less complicated additions to be made expanding doorways and vehicle entry points. For offices, the absence of non-load-bearing walls makes for easy modifications to configurations. Adding overhead storage to the areas within the trusses is also an easy remodel.
Clear and Open Span
While metal-framing can also allow for a wide, clear span, post framing provides plenty of uninterrupted space to maneuver vehicles, forklifts, and animals, or to create an unobstructed retail area. Post frame buildings are ideal for warehouses and fire stations.
Usability of Post Frame Buildings
Simple to build and easy to use is the trademark of post-frame construction. These structures offer a higher number of potential uses than either of the traditional types of structures. Whether for municipal buildings, fire stations, schools and annexes, churches, residences, or agricultural buildings, post frame structures can serve virtually any purpose while complying with all building codes and neighborhood appearance standards.
The finished interior of a post frame structure can be designed for any use and modified, as needed, for growth and future applications.
Resistance to Extreme Weather Conditions
Post frame buildings have survived hurricanes and tornadoes when other conventionally framed structures have not. Wind and storm forces transfer evenly into the ground through the large vertical posts. These posts are buried a minimum of four feet into the ground. As a result, the structure absorbs and transfers the forces downward. Other building designs receive direct storm wind forces and often collapse.
Post Frame Potential Shortcomings
No Basement
One of the negatives of post frame is that a basement is not part of the construction. This fact is also a positive one. The building supports are wooden sawn posts sunk directly into the ground at the building site. Therefore, no concrete perimeter foundation in the form of a basement or slab is required.
Contact Pacemaker Post Frame Buildings
The experts at Pacemaker Post Frame Buildings will be pleased to answer any questions regarding the pros and cons of post frame buildings. Also, you will find a visit to the Pacemaker website can help you to understand the process and options more thoroughly.
Call today at 1 (888)-834-4448.