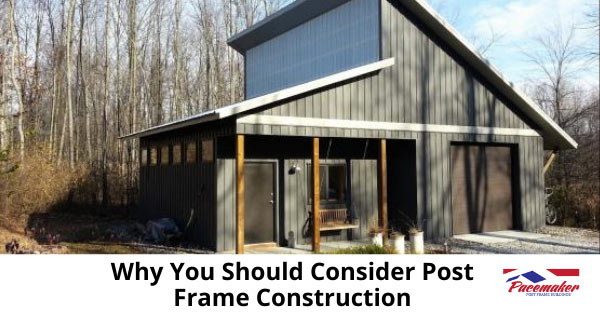 Post frame construction has been around for a while now. Whether you are building an agricultural building, equestrian center, warehouse, storage, fire station, or retail outlet, post frame structures come with plenty of advantages. Not only are they durable, and economical, but they can also be attractive additions to your property
For anyone who thinks post frame buildings are only appropriate for barns and sheds, it is time to rethink that misconception. Post frame construction is a realistic approach and technique that drives designers and builders toward a broader spectrum of options.
Beautiful, functional, customizable and sustainable, post frame construction is becoming a premier option for building owners in nearly every market.
What is Post Frame Construction?
Post frame construction is a building method using large posts and roof trusses to create the structural shell. The sturdy upright posts are the main structural framing components. These are sunk deep into the ground, which helps keep the building stable in high winds. These vertical posts are spaced 6 feet or more apart. These posts replace the conventional wood studs, steel framing, and concrete masonry of other types of buildings. The trusses are then attached to the top of the posts.
What Are the Real Benefits of Post Frame Construction?
Economy
More efficient use of materials and labor, easy assembly, minimal site prep, and shorter completion times equal a reduction in costs. Because of the simplicity of design, the potential to make last-minute changes is also simplified with post frame building methods.
Additionally, the widely spaced vertical posts allow for a more uniform installation of insulation materials. As a result, your energy costs will overall be lower since there are fewer gaps and spaces for heat to escape.
Versatility
Additional load-bearing support is not required internally. This is due to a combination of sturdy widely spaced vertical posts around the perimeter. As well as, securely attached trusses and other roof members.
As a result, the structure offers abundant open, unobstructed space. This is perfect for maneuvering vehicles and equipment, warehousing, equestrian operations, repair shops, barns, and storage facilities.
Post frame buildings are also popular for retail operations, as they allow for vast and unobstructed lines of sight.
Durability
Post frame designs have proven to withstand heavy wind and storms better than many conventionally built structures. Other structures tend to shear at the foundation level during a tornado or hurricane. Post frame buildings redirect the wind forces down through the vertical posts and into the ground below. This activity reduces the pressure on the structure's sides and roof. The result is a still-standing post frame building while other nearby buildings may have severe damage.
Beauty
You can add almost any aesthetic feature you want to your post frame building. This includes brick or stone wainscoting, cupolas, alcoves, dormers, overhangs, stylish roofing, landscaping, carriage-style doorways, and more. These extra additions can give your new post frame building a unique look or it can complement other buildings on the property.
Sustainability
The fundamental support structure of a post frame building is wood, a renewable resource. Other elements can include recyclable metals, glass, and even roof shingles made from recycled materials. And, notably, you will reduce the amount of energy required to build and operate your beautiful post frame building. Many clients have earned LEED Certification with their new facilities.
As you can see, there are many advantages of building a post frame structure for your needs. Another bonus is that adding on to your structure can often be easier than with traditional buildings. Thereby making post frame building perfect for a growing enterprise.
Contact Pacemaker Post Frame Buildings
Learn more about the many benefits of post frame construction by visiting the experts at Pacemaker Post Frame Buildings in North Webster, Indiana. As a designer, supplier, and builder of post frame buildings, the Pacemaker professionals have designed, supplied components, and built beautiful and practical post frame buildings to hundreds of clients throughout Northern Indiana, Southwestern Michigan, and Northwest Ohio.
You may visit the Pacemaker website's  Project Gallery to see many of their stunning and highly functional past projects.
For more information, contact the professionals at Pacemaker at 1-(888)-834-4448.