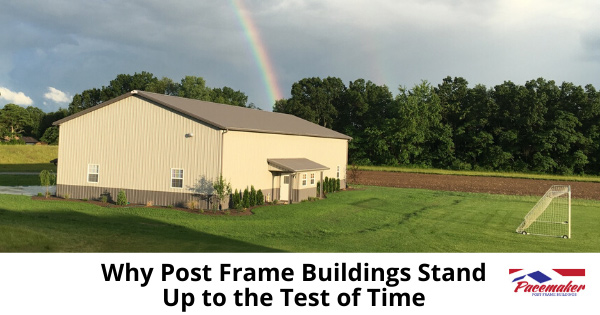 Post frame buildings are durable, practical, and economical. Whether you are planning a rural structure like a barn, shed, or equestrian center or an urban construction for a firehouse, vehicle garage, retail establishment, or warehouse, post frame buildings provide long-lasting reliable service.
Post frame construction uses durable materials and techniques that withstand heavy use, extreme weather conditions, and the test of time.
Here are some of the reasons why a modern post frame building is ideal for so many uses and will last a lifetime.
Post Frame Materials
The support system for modern post frame buildings is heavy machine stress-rated. Treated lumber beams are securely anchored at least four feet into the ground. Posts, joists, trusses, roofing, and other members are secured with durable connecting devices. Thus providing a wholly unitized structure that will last. All elements fit precisely with exact lengths and cutting angles to ensure 100% integrity.
Additionally, screws and metal connectors for post frame buildings will withstand far more stress of any kind. As compared to nails used in other building methods.
A well-designed and constructed post frame building will meet all universal building codes. As well will provide you with an attractive, longstanding, and economical solution for decades to come.

Dig Deep, Withstand the Worst
Instead of attaching the building to a foundation above ground level, post frame construction starts with sturdy, treated wooden posts sunk four feet or more into the ground. With post spacing at 6-10 feet apart. If your location is subject to severe winds, burying the posts even deeper than four feet will provide extra security.
The vertical posts should be sunk unto concrete anchors to offer maximum support. Also, a substantial truss-to-column connection will lessen the possibility of the roof lifting in wind storms. This can be a severe problem with other construction methods.
In the most torrential or hurricane-force winds, post frame design redirects the exterior forces harmlessly through the posts into the ground below.
The "diaphragm effect" is inherent in the post frame design. In simple terms, unitizing the structure from a securely connected roof to the deeply buried support posts causes the building to flex under stress. In comparison to cracking, crumbling, and collapse like other structures.
You can also choose to position your building in the direction that best manages the prevailing winds. The Department of Agriculture provides a tool to help you align your structure to give the least resistance to prevailing winds.
Cladding for Longer Life
Post frame buildings can be clad in any material you choose. With substantial metal siding and roofing, your structure will weather any kind of external stress that may occur. Your aesthetic preference or local code may require other materials. So you can add an outer layer of wood siding or masonry wainscoting. Therefore, increasing the structure durability while enhancing the exterior look of the building.
Contact Pacemaker Post Frame Buildings
Pacemaker Post Frame Buildings is an industry innovator in post frame buildings. For over 45 years, this family-owned company has been serving the post frame industry in Southwest Michigan, Northern Indiana and Northwest Ohio from their North Webster, Indiana location. Ready with all materials, components, design support, and construction expertise. Pacemaker offers many innovative options and ideas for any building solution.
For more information or a consultation about your project, fill out the simple Contact Us form on the Pacemaker website, and a Pacemaker professional will contact you. You can also call Pacemaker at (888)-834-4448.