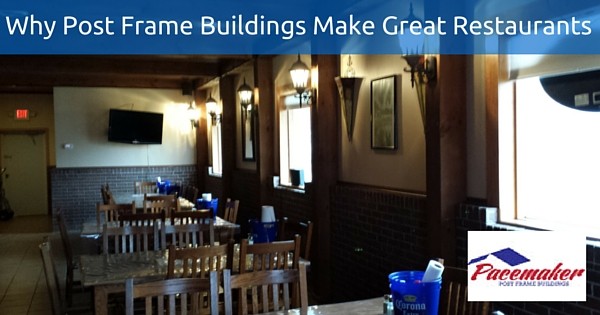 The restaurant business is a hectic, all-day affair in which you and your staff are bustling about all day, catering to the needs of your valued customers.
Before they even taste the food, they have to walk into your restaurant building – it has to be attractive, sturdy and have enough room for your customers to be comfortable.

It turns out that a post frame building represents all of these qualities and can be ideal for grocery stores and restaurants.
Post Frame Buildings are Remarkably Strong
Although a sturdy restaurant facility is a good thing to have anywhere in the country, it is especially important in places where you have heavier snow and wind load conditions.
Obviously, you want your customers to be comfortable while dining and not be concerned with exterior weather issues. An Engineered post frame building can be even stronger than those built with more common construction methods:
The columns that support the building in post-frame construction are embedded deep into the ground. The building will stand fast against the most vigorous winds and provide a quiet and peaceful dining venue.
The roof is attached to the building diaphragm system using a truss system. This builds in strength and enables the roof to withstand heavy snow loads.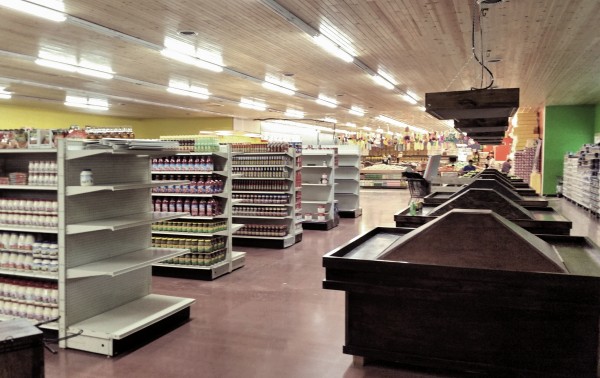 Energy Efficiency and Spaciousness Together
Usually, large spacious buildings would require heavier energy use. However, post frame buildings have thick wall cavities that allows for maximum insulation value.
Compare this to the traditional restaurant building composed of metal framing – which loses heat quickly during the winter, and warms up quickly during the summer.
Traditional building construction makes insulation ineffective, which leads to greater heating and cooling costs. Concrete construction is even worse because their porous nature lets heat and cold pass on through.
Post frame buildings solve these problems completely; after all, in a restaurant, you want your guests comfortable enough to appreciate the menu.
Maximize Seating Space and Kitchen Layout
The design of post frame buildings enables the restaurant to have large interior open spaces, perfect for maximizing your seating. Get some inspiration for seating design options here.
Buildings with lots of poles that tables have to move around can be a challenge, and this is not the case with post frame restaurant constructed buildings. Open seating space allows you to configure as needed for guest comfort.
As well, with the open interior design, the kitchen configuration can be designed for efficiency of workflow and food prep, not forced into a space that is limiting.
The possibilities are yours to design so that your team has the space they need to prep food quickly and efficiently, enabling you to have more consumers come through on any given night.
Opt for a seasoned, code-compliant contractor to build your post frame restaurant building, so you can start enjoying the well-insulated, spacious building of your dreams.
Pacemaker Buildings has been building post frame structures for 40 years. Contact us today so that our experienced crews can make your restaurant dreams come true.