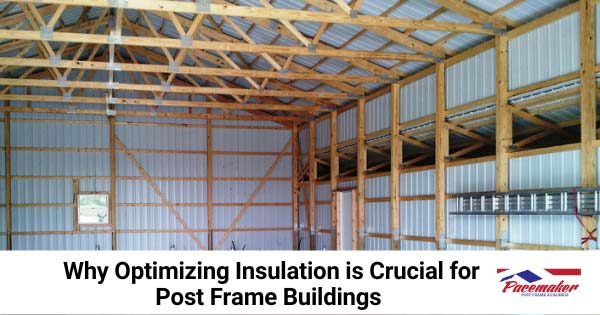 Post frame buildings are great for a multitude of uses. This means you may have people working, supplies to store, or livestock living inside. As with a residence, ample insulation for post frame buildings controls the loss or gain of heat to help maintain temperatures, provide comfort, and reduce energy costs.
One real advantage that post frame structures offer is the ability for insulation to provide greater energy efficiency than other building types. This is because of the wide spacing between the vertical support members. The wide spacing allows insulation to fit more uniformly than with narrow 16" spacing in typical wood frame construction. With fewer gaps from the framing, the insulation can dramatically reduce the loss of energy.
How Proper Insulation Adds Value to Your Post Frame Building
1. Insulation Saves Money
Installing sufficient insulation to create a high degree of R-Value during construction will reduce energy loss and save money. Insulation also helps save money if you use heating and air conditioning to make conditions comfortable for working.
If you plan to add an office or workshop to your post frame building, maintaining a comfortable temperature will make work more manageable and productive.
2. Proper Insulation Protects Your Investment
While post frame buildings are more economical, proper insulation and maintenance will keep the structure performing well for a lifetime.
Uninsulated buildings allow moisture and the development of harmful condensation, usually in places you overlook.
Over time moisture build-up can foster the development of harmful conditions like mold, mildew, and even rust. All of these conditions will shorten the life of your building and can harm equipment and machinery within.
3. Insulation Creates a Healthier Atmosphere
The presence of mold and mildew within any structure can lead to breathing issues and illness in humans. However, you can eliminate the potential of an unhealthy environment with an insulation system.
Incorporate high-quality moisture barriers like Tyvek on the exterior of your insulation. Then, use a polyethylene vapor barrier on the inside, to prevent penetration by moist air. Remember to include these elements as part of the initial structure design.
Begin with a Well-Devised Plan
You may use your new post frame building for more than one function, and collectively these will determine the breadth of your insulation plan.
For example, temperatures in an office, workshop, or "man-cave" should be maintained similar to a residence. For livestock, including horses, the ambient temperature can be considerably lower. However, it should be at a warmer level than the great outdoors of a Midwest January.
If you are planning to store feed, liquids, or equipment, you will need to research which temperature ranges are most appropriate for the supplies. Moreover, even a minor period of exposure outside of the acceptable temperatures can be damaging.
Ventilation is Essential
The post frame design should also include well-designed ventilation and eaves. Unrestricted airflow, often supplemented by a fan, should be part of the design to prevent moisture and stale air build-up. Top flow-through ridge vents and vented eaves provide the necessary escape from stale air and keep the interior fresh and healthy.
Contact Pacemaker Post Frame Buildings
Consulting with a professional post frame company can help you create a plan for a temperature-controlled, well-insulated post frame structure that will meet your needs, protect your investment, and provide you with the highest level of performance for the long term.
A longstanding leader in the design, manufacture, and construction of high-quality post frame structures, the professionals at Pacemaker Post Frame Buildings have the knowledge and experience to help with any post frame solution.
Headquartered in Northeastern Indiana, the Pacemaker experts have helped design and build agricultural, equestrian, municipal, and suburban structures for four decades. You can see many of their beautifully finished and diverse projects by visiting the Pacemaker Website Gallery.
If you wish to learn more about the many benefits and practicalities of modern post frame buildings, contact Pacemaker at (888)-834-4448.