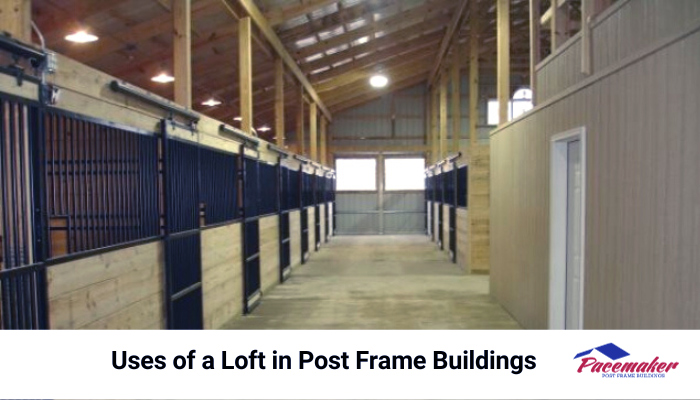 Lofts are an easy-to-add option within post frame structures, so it is important to highlight some of the possibilities. After all, once you have used all that free and clear floor space, why not make better use of the clear overhead room you still have? Let's look at uses of a loft in post frame buildings.
There are usually ways to add essential elements to your post frame building without interfering with its most important function, whether for agricultural, equestrian, automotive, or other purposes. Loft spaces are an addition that adds function without detracting from the principal purpose of the building.
What is a Loft?
In a post frame building, owners have space to create an upper room or loft on one side. This will not interfere with the main function of the building and just requires a basic stairway leading to it. It may be fully enclosed or have an open view of the space below, as necessary.
Adding a Loft in Post Frame Buildings
So you have planned space for your tractors, attachments, and all the other equipment you need to bring in and out of the building.
But, how can you make the building even more functional? Perhaps an office or room to get away from everything to work on paperwork and other items will be helpful. Or you may want the space above to store lightweight items that you don't use frequently and can be easily transported.
Equestrian buildings require more than just space for the horses. A tack and equipment room is a necessity, and you may want a washroom and office or relaxing space. A larger post frame building may even have an exercise area.
If you are looking for a space to work and relax, an upstairs loft area provides the room you need. You can include an office with a bathroom or a recreation area complete with a TV or other electronics to escape from the rest of the building.
You might even add a changing room to your loft for dressing before and after riding. This helps to keep the smell and dirt away from your primary residence.
Automotive Workshop and Other
Creating a loft in your workshop is a great way to keep grease in the building rather than your home. Consider adding a bathroom with an area for washing and changing. You may even want to consider a laundry area to clean dirty clothes in the building.
Adding an office or perhaps a fun room can be an excellent investment. If you have trophies from competitions, this is a great place to set up and display those as well.
Contact Pacemaker Post Frame Buildings
No matter what the primary function of your post frame building is, adding a loft makes the space more functional. This may be used as an office, changing room, recreation area, or storage. Don't forget that the area directly below can also be used for other purposes.
Contact Pacemaker Post Frame Buildings in North Webster, Indiana. These professionals have worked for four decades to provide the right post frame solutions for clients in Northern Indiana, Southwest Michigan, and Northwest Ohio.
Pacemaker can help you plan, supply the materials, and even construct your post frame building to provide you with the best and lowest cost building. You can view some of their beautiful past projects by visiting their Gallery of completed projects on the website.
To set up a no-obligation consultation with one of the Pacemaker Post Frame experts, complete the brief Contact Us Form, and they will contact you promptly.
Or if you have questions or want to talk with a representative, call 1-888-834-4448.