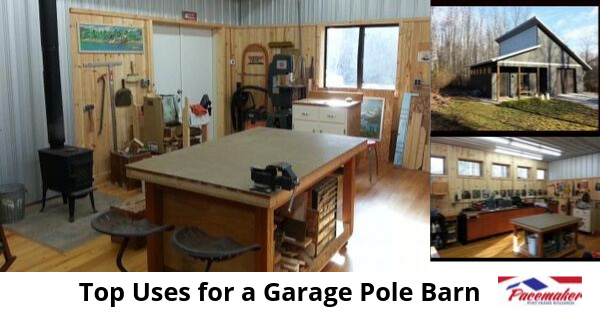 When we think of a garage, we naturally envision a place to store cars, pickups, and lawnmowers. However, as we all know, our garages often become places for many other purposes. In fact, as usually happens, we wish we had built more garage space. Especially for those practical and not-so-practical reasons that we had overlooked originally. Consider these uses for a garage pole barn.
How about extra space for a workshop? Or, possibly, you need to find room for that camper or boat that you recently purchased. An indoor place to house those extra cars or even that antique you are restoring would be nice as well.
Make Your Dream Come True
A well-designed post frame or pole barn garage could be the answer to your dreams. Post Frame structures are spacious, inexpensive, practical, and even expandable, able to accommodate your several cars, boat, and camper while also providing a new workshop or office, all in one.
You can create more breathing room within your home as you transfer much of the overflow into a clean, functional post frame garage. The uninterrupted space within, as well as the option of an easily accessible room upstairs, can solve every storage issue you may have.
Creating the Ideal Storage and Workspace in Your Garage Pole Barn
Vehicle Store-All Building
If your lot is sufficiently sized and you want additional space, consider a 32' x 40' or smaller pole barn garage that will house all your equipment and vehicles. Make sure the entryways are ample enough for your cars, a motorhome or camper, and boat as well as those smaller toys and gardening equipment.  Typically, overhead 12' x 12' doors will accommodate larger coaches, but the key is to confirm in advance so that you do not undersize your entryways.
One of the primary advantages of post frame construction is the massive clear space within, unobstructed by interior vertical beams. This allows you to maneuver and reposition vehicles and machinery easily without excessive turning, backing up, or worrying about causing structural damage to the supporting beams of conventional structures.
Workshop and Storage
Having a pole barn garage workshop lets you install more equipment while providing ample space for supplies and raw materials. The workshop may be adjacent to or above the automobile parking and might even include a den and bathroom above or on one side.
Designs should allow ample light, both natural and artificial, as well as the necessary heating, ventilation, and air conditioning.
Recreation Room and Storage
Besides allowing ample space for parking your vehicles, why not add a recreation room to your pole barn garage design? This could free up much-needed space in your home while offering a space for family and friends' fun and entertainment. Allocate a section for a TV viewing area, a pool or ping pong table, or maybe a bar and party room. Add a bathroom and kitchenette, and you may find your family spending more time there than in the house.
Design and Build with Pacemaker Post Frame Buildings
Pacemaker Post Frame Buildings is a leading manufacturer, designer, and builder of post frame materials and buildings. For over four decades, this Northern Indiana family-owned and operated construction company has created post frame buildings.
The experienced Pacemaker professionals will help you with the design, components, and construction of your custom post frame structure.
Visit the Pacemaker website to view the many beautiful examples of past projects.
If you have any questions, contact the experts at Pacemaker by phoning 888-834-4448.