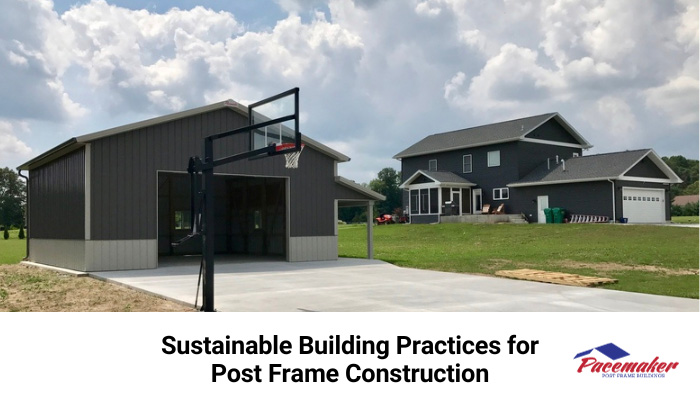 Post frame buildings bring value to property owners in many ways. After all, they are low cost, versatile, offer plenty of open space, have a shorter time to completion, and much more. Additionally, post frame buildings are eco-friendly and use sustainable building practices, also known as sustainability in building.
What is Sustainability in Building?
Sustainability in building refers to a project that lends itself directly and indirectly to environmental and social benefits. The aim is to reduce the negative impact on the environment as much as possible. Post frame buildings fit into this as they create a smaller carbon footprint. They maintain lower energy consumption during construction and throughout their lifetime when compared to conventional buildings.
How Post Frame Buildings Are More Sustainable
As the construction phase begins, post frame buildings require far less energy and materials than other building types. Here's why:
Reduced Site Disturbance
At the very beginning of the project, the land for the post frame building requires only clearing, leveling, and slight angling before building. This is to ensure proper drainage away from the site.
The post frame building relies on widely spaced vertical posts to support the structure. No foundation is needed, but one can be added if you wish. This results in little or no concrete usage, offering a significant energy reduction.
Made with Renewable and Recyclable Resources
Post frame structures can be built primarily with renewable and recyclable materials made from salvaged or recycled materials. Furthermore, these materials are often manufactured using environmentally friendly processes.
More Uniform Insulation
Because the outer walls consist of widely spaced vertical supports, insulation is more uniform throughout the post frame building. As a result, there are fewer places where energy can escape. Therefore, the structure can maintain a constant temperature with less power.
Less Material Overall
A durable, long-lasting post frame building uses significantly less material than conventional buildings. As less materials are required for the exterior of the structure, the wide-open spaces within also demand fewer building components.
Better Use of Natural Light
Post frame buildings use open floor plans with no load-bearing walls within. The interior space is wide open, although simple interior walls can be added. This results in more uniform natural light from windows. This can also help you save money on electric bills going forward and during construction.
Less Wood Used
The broad spacing of the vertical posts and trusses (approximately 6 to 10 feet) reduces the amount of lumber required for a post frame building. This reduction is another cost-saving as well as a sustainable measure.
Sustainable Design Benefits
A well-designed and well-engineered building made with eco-friendly materials will be more durable in the long run. This helps save energy and money that would otherwise be spent to rebuild or redesign other structures.
Contact Pacemaker Post Frame Buildings Today
Pacemaker Post Frame Buildings in North Webster, Indiana, has been designing, supplying, and building post frame solutions for their customers for over four decades. This family-owned business has led the improvements in post frame building and offers various post frame buildings to customers in Northern Indiana, Southwest Michigan, and Northwest Ohio.
You can view the Pacemaker Post Frame projects gallery by visiting their website at https://www.pacemakerbuildings.com/see-the-results/.
To discuss your ideas for a new building, contact Pacemaker Post Frame Buildings at 888-834-4448. Our professionals will be pleased to talk with you about your needs.
Also, you can schedule a call with one of our experts by completing the simple Contact Us Form on the Pacemaker website.