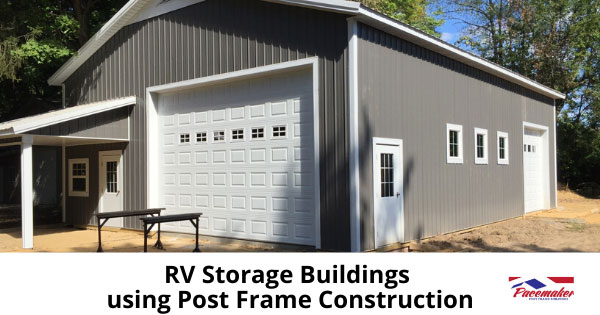 Now that you own the recreational vehicle you have always dreamed about; finding the best RV storage buildings to store your treasure is the next challenge. While you can always find public storage spaces; both indoor and outdoor, the annual costs accrued and access can often be limited.
Keeping your RV in the driveway does allow for spontaneous access. However, this often violates the neighborhood bylaws while detracting from the beauty of your home and landscape.
If you have ample real estate, consider a beautifully designed RV garage that will look great next to your home while keeping your RV clean, dry, and ready to go for your next outing. With the right design, this structure could do far more than simply protect and store your RV.

Why is Post Frame Construction Best for RV Storage?
Since post frame construction is supported by widely spaced, sturdy vertical columns securely anchored deep into the ground, the interior space is not interrupted by the intermittent load-bearing columns that are necessary for standard construction.
Post frame buildings are often lower in cost than conventional garages. Additionally, a tall, spacious post frame structure offers:
Wide, open interior space without vertical support obstruction, perfect for maneuvering, servicing, loading, and unloading.
Plenty of additional room for storage of accessories and camping equipment.
Adjoining garage space for other vehicles, bikes, and lawn and garden equipment.
Instant access for "spur-of-the-moment" outings.
A beautiful exterior appearance that can match or complement your home, barn, shed, or other structures.
Shorter construction time over standard buildings.
Minimal site preparation required.
Planning Your RV Garage Entryway
Although the width for your RV garage door may not be noticeably different than for pickup trucks and cars, the height will be different from a standard garage door. The typical height of an RV garage door should be 12 to 14 feet high.
Consider installing a taller doorway than you might need right now, as you may decide to upsize someday; or consider that a future buyer might require a taller doorway for their vehicles.
Design Options
Post frame offers many design possibilities. For example, one popular approach is a free-standing structure with a high center to accommodate the RV with smaller standard sized garage spaces and entries on either side. This practical approach puts all your vehicles in one location with plenty of room for storage and other equipment.
In a rural setting, a barn-type structure with a gambrel roof can provide two large entries to house your RV and perhaps a tractor or large pickup truck.
In most instances, additional storage, shop, office, or even a den can be added to any unused space either at ground level or upstairs as a loft in your new RV garage.
Durability
Modern post frame structures intended for RVs and other vehicles or items provide long-lasting, durable protection. The post frame design resists extreme wind conditions and severe storms by redirecting these forces through the widely spaced vertical posts inserted directly into the ground.
Contact Pacemaker Post Frame Buildings
For questions about your new RV storage building, contact Pacemaker Post Frame Buildings. Pacemaker is a premier designer, component supplier, and builder of post frame buildings for agricultural, commercial, and suburban applications. Situated in North Webster, Indiana, Pacemaker is a family-owned business that has been serving customers throughout Northern Indiana, Southwest Michigan, and Northwest Ohio for over four decades.
The Pacemaker Team has refined many of the designs, methods, and materials used in post frame construction to become a practical and economical solution for virtually any type of building.
For more information, check out some of the past projects completed by Pacemaker. You can also call the professionals at Pacemaker Post Frame Buildings at 1-888-834-4448.