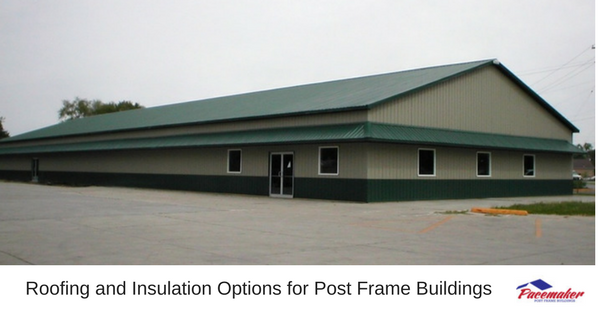 Once the post frame walls and trusses are in place, adding the roofing material and insulation is next. Consider the weather and temperature extremes, energy conservation, and aesthetics when you're choosing materials for the building. Selecting the right roofing material to complement the siding and match your budget is a significant decision.
And, depending on the prevailing weather conditions and planned use for the building, insulation considerations are just as important.
Selecting the Appropriate Roofing Materials
Post frame buildings, a longtime standard for agricultural buildings, have become a solution for civic buildings, fire stations, warehouses, commercial and retail buildings, churches and even private homes. The advantages of reduced construction times, efficient use of materials, energy efficiency, more open space, versatility, and total cost of construction have made post frame a premier choice for many types of buildings.
For roofing, all the material types for standard construction are feasible for post frame buildings too. The many styles and types of shingle and metal roofing materials are all acceptable options. It just depends on your preferences for appearance and energy efficiency.
Let's consider 2 options, shingle roofing, and metal roofing. Both have particular advantages.
Shingle Roofing
Many consider shingle roofing to be more aesthetically pleasing than metal options. To coordinate with surrounding buildings in a neighborhood shingles may be the best option. Asphalt shingle roofing is durable and is often a cost-effective material. High-quality shingle roofing is generally guaranteed for up to 30 years.
Metal Roofing
Steel, aluminum, or specialized copper and zinc roofs are favored by many who live in high snow accumulation areas. The materials, available in large sheets, are easier to install and require less specialized labor.
Metal is also resistant mold, rot, and insects. Shingles are not. Metal is fire resistant and long lasting. And, metal roofing reflects heat better than shingles, thus has lower energy costs.
Though metal is not always popular in residential areas, the roof can be painted to complement surrounding structures.
Insulation and Energy Efficiency on Post Frame Buildings
Energy conservation is natural in post frame construction style. Narrow 16" spacing between the framing members of conventional buildings provides more opportunity for energy to escape. The 6 to 10-foot span between vertical columns in post frame construction makes it easy to use larger sheets of insulation throughout the building.
Post frame buildings are the easiest to insulate. With large vertical wooden beams spaced 6to 10-feet apart and 2×6 horizontal supports at 24" spacing, blanket insulation fits perfectly and efficiently in the spacing.
The same method works for the roof insulation.
Covering the insulation with a vapor barrier is essential to keeping moisture from accumulating in the insulation. Use drywall or plywood for the finishing touch, particularly if the structure is for human use.
Check with Pacemaker Post Frame Buildings
If you have any questions regarding the development and application of this efficient construction method, visit the Pacemaker website at www.pacemakerbuildings.com to view the many desirable applications.
If you have any questions about roofing and insulation of your post frame building, call Pacemaker at 888.843.4448.