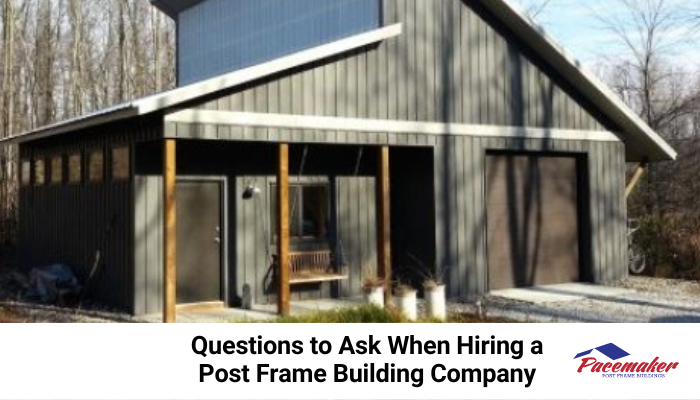 As you contemplate a new building for your farm, business, equestrian center, or other needs, there are many considerations to keep in mind. To ensure you are making the right decisions, you should hire a professional, post frame building company. They can help you with many elements of your new building project from idea to conception. As a supplier, designer, and builder of your new building, their experience will help you significantly while saving you money and headaches later.
So, how do you choose a post frame building company, and what do you need to know?
Interviewing Post Frame Builders
Selecting the best post frame building company can be a challenge. However, if you are organized and thoughtful, it gets easier. Here are six questions to ask and suggestions to help you make the right decision.
1. How easy is it to communicate with them?
From the start, having a principal contact with whom you have clear, direct communication is crucial. This person should explain everything clearly and accurately. Furthermore, the individual should always be available as your main point of contact.
That individual should ask straightforward questions to identify your objectives. Getting this right up front will be an essential part of the success of the project.
2. Who will be the foreman or principal of the project?
As your project progresses, having a foreman or leader of the project to answer questions clearly and be able to provide insight into deadlines, next steps, material arrival, and more is essential.
Certification from one of the leading building trades organizations is also a significant plus.
3. Will qualified designers and engineers be on the team?
You will want to ensure that an experienced and qualified designer is part of the process. As buildings become more complicated, the need to ensure the structure's integrity gets more critical. Working with a knowledgeable designer is best as they can eliminate potential design problems before they occur.
4. Is the crew professional and experienced?
What about the crew who will be working on your project? Are they experienced and do they have all the necessary skills to handle the job? Ensure the workers are employees, not subcontractors, and that the company is fully aware of their capabilities.
5. Are the materials the best quality?
The materials should always be of the best quality available. After all, the higher the quality, the longer your building will last. Pacemaker Post Frame Buildings in North Webster, Indiana manufactures their components, so the quality of the finished building is the best available.
Cutting corners with fewer materials will shorten the life of your building and can cause structural issues. Make sure you have only the best.
Excellent client reviews are the best signs of a company's performance. Other clients with similar needs can provide valuable insight into working with the company.
6. Does the company have great reviews from prior customers?
Check out these reviews and follow up with further investigation if needed. Ultimately, this may be one of the most solid indicators of the company's performance.
Contact Pacemaker Post Frame Buildings
In Northern Indiana, Southwest Michigan, and Northwest Ohio, the professionals at Pacemaker Post Frame Buildings have been in the post frame business for over 45 years. The experts of this family-owned business provide high-quality design and construction of post frame buildings.
Visit the Pacemaker Post Frame Company website to learn more about how we can help you, view many of our past projects, and learn about our process.
For a no-obligation discussion about your project, you may contact us by completing the simple Contact Us Form on the website; or call us at 888-834-4448.