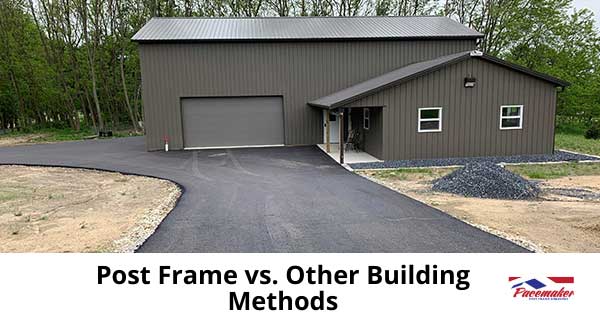 Post frame construction has become a popular and practical solution for nearly every type of building. No longer just limited to agricultural solutions, post frame structures are popping up in urban settings such as retail and commercial buildings, firehouses, schools, churches, showrooms, and even residences. There are several advantages of post frame vs other building methods.
This innovative construction approach offers many advantages over conventional types of building.
Why are Post Frame Building Methods Preferred?
The unique framing method of a post frame building is the principal difference from the standard "stick frame" construction method. By using sturdy treated laminated wood columns that are securely anchored at least four feet below ground level, post frame methods and materials meet all UBC and IBC codes for strength and durability.
Main advantages of Post Frame Construction vs Other Building Methods
Unobstructed Space
Because post frame buildings demand no load-bearing interior walls and supports, the entire interior is a large, open space with high ceilings. This kind of space is perfect for maneuvering large vehicles, handling horses and other livestock, storage and warehousing, retail space, schools, churches, and more. The possibilities are endless.
Municipalities often use post frame structures for fire stations and winter equipment storage facilities.
Strength and Durability
Securely anchored a minimum of four feet below ground level, the vertical post components can redirect severe wind forces directly into the earth below. This action has allowed many post frame structures to weather extreme winds. In contrast to nearby conventionally built structures incurring severe damage.
Economy
More efficient use of materials and labor, often allow a shorter time frame from start to finish. Therefore, site prep is substantially less extensive, requiring only that the footprint be level with some sloping away from the perimeter to allow for drainage. The entire skeleton, including the trusses and support members, can be prefabricated and delivered to the site as needed.
Flexibility
The interior arrangement of post frame buildings is not restricted by load-bearing walls and columns. This can be beneficial for growing businesses and schools when they need to be able to rearrange offices and classrooms.
For warehouses and manufacturing, post frame buildings allow for easy expansion. Add and access new wing additions due to the broad spacing of the support columns. Adding to a conventional building is often more complex and requires special design and engineering.
Style
A modern post frame building can take on many preferred appearances, whether it is a unique style or to complement surrounding buildings. With brick wainscoting, wood or metal siding, stonework, or stucco, there are no limits to the exterior appearance. Furthermore, there is always the option to add alcoves, dormers, overhangs, and just about any other architectural feature to a post frame building.
Sustainable and Energy Efficient
Wood is a renewable resource, requiring less energy to source and produce than other building materials. Additionally, nearly all other components of a post frame building can be from recycled material.
As noted, building a post frame structure requires less energy than other construction methods.
For more efficient heating and cooling, post frame buildings are superior. Due to the wide spacing of the vertical wooden columns allows for insulation to be more uniformly installed, thereby reducing the loss of energy.
Meet with Pacemaker Post Frame Buildings
We have worked strictly with post frame construction for over four decades. Pacemaker Post Frame Buildings has become an industry leader in design, material supply, and construction for modern post frame buildings. Pacemaker, headquartered in North Webster, Indiana is the premier post frame company for Northern Indiana, Northwest Ohio, and Southwest Michigan.  By visiting the Pacemaker Gallery, you can view some of the remarkable projects that Pacemaker has completed.
For more information regarding new, practical post frame buildings, contact Pacemaker at +1-574-834-4448 or toll-free at +1-888-834-4448.