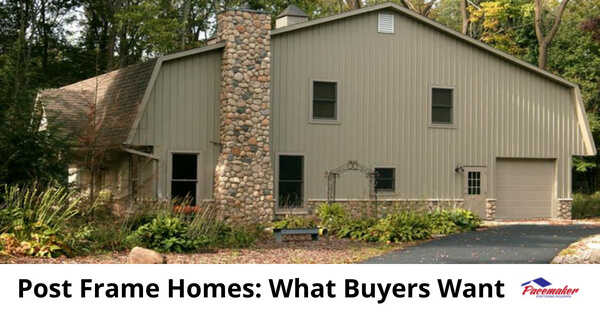 Many people are confused about what is a post frame building. Often this type of construction is only associated with pole barns and other agricultural buildings. In reality, post frame is merely an innovative framing and building method. Thus offering a broad range of advantages over typical metal or "stick-framed" structures. Perfect for one story buildings. Post frame construction methods are being used for new schools, retail space, churches, fire stations, municipal buildings, and even homes.
The practical benefits of any post frame building are many. Benefits include less material and labor, more energy efficient, sustainable materials, and unobstructed open space. Post frame buildings generally cost less per square foot to build.
For homes, post frame building techniques can offer just about any architectural features that standard home construction provides.
Homeowner Preferences
An attractive, eye-catching exterior combined with a beautiful and functional interior is every homeowner's desire. A home should be built with quality materials and offer a unique setting for living while enjoying reasonable energy costs. With vaulted ceilings to provide an open feeling, post frame designs can provide that sense of volume while still affording plenty of privacy.
Spacious Family Room with Big Views
A popular choice for building sites offering a panoramic view, the wide spacing of the post frame's vertical columns is ideal for extra-wide unobstructed vantage points. Large, open great rooms and dining areas are typical in a modern post frame home design.
Large Open Kitchens
A post frame home can also offer a large kitchen with an unobstructed view and access to the dining and living areas. The openness allows the people in charge of cooking to be part of the socializing taking place in the adjacent spaces.
A lofty ceiling configuration allows sufficient room for an oversized exhaust fan as well as,  large appliances. The floor space can be perfect for a large, well equipped center island for easier preparation and ergonomics.
Upper Bedrooms
Bedrooms above can also enjoy a panoramic view with an open-beam configuration that adds impressive style and spaciousness to the room. Access to the second floor can be provided by an open stairway offering a lodge-like atmosphere to the entire building.
Advantages of Post Frame Homes
Virtually any style preference is achievable with post-frame construction. The amount of material and labor needed to create an impressive, long-lasting post frame home can be less than with traditional building methods.
In fact, many homeowners are finding that the money saved by planning a quality post frame home allows them to spend more for an outstanding property with a stunning view.
Also, because renewable wood resources are the primary component of a post frame home, the construction is highly sustainable and energy saving. Pacemaker Post Frame Buildings is a leader in "Green" building design and construction practices.
Contact Pacemaker Post Frame Buildings
A top designer, developer, and producer of post-frame construction materials, Pacemaker Post Frame Buildings continues to refine the process. Check out the Resources section of their website. Learn more about the many facets and advantages of post frame building.
Post frame techniques and materials are ideal for many home construction designs. While post frame methods offer many unique characteristics, they also provide just about any feature that a conventional construction provides.
For more information, contact Pacemaker Post Frame Buildings at 888-834-4448.