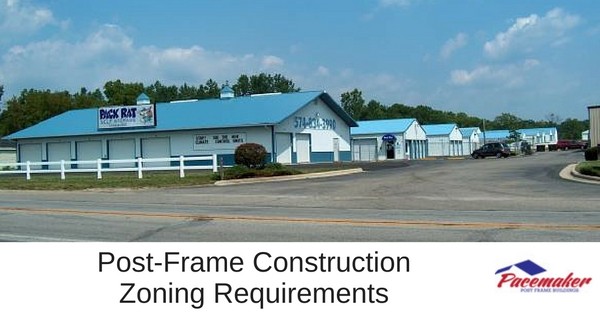 Post frame buildings are an attractive type of construction which adds aesthetic value to the majority of environments they are used in. Besides being more economical, energy efficient and durable than other types of buildings, post frame construction is far more sustainable as well.
A number of zoning commissions have decided to place rules on post frame buildings in many zones across the country. Typical of any zoning commission there goal is to manage growth and the type of building in certain locations.

One issue that can be present is that the county and city zoning commissions may be confusing permanent post frame construction with generic pole buildings or pole barns. The differences should be apparent. Post frame uses rectangular solid-sawn posts with laminated columns. These posts are anchored at least four feet into the ground, usually set on a concrete footer.  A post-frame building can be considered a type of pole building; it's just the more durable and long-lasting variety of pole building and should not be considered merely a "pole building".
With so many developments in style, methods, and materials used for post frame construction, there is little need for zoning boards to place restrictions on post frame construction.  A post-frame building can beautify any location and add value to the community.
Misconception of Post-Frame Buildings
The problem seems to be that zoning commissioners equate pole barns to farms or industrial use only. In reality, post frame construction is simply an alternative method of framing a building. The façade and roof of a post-frame building may be any material including brick, wood, masonry, stucco or any other material. As David Bohnhoff, Ph.D., a Professor of Engineering at University of Wisconsin-Madison aptly stated, "they should ban hideous buildings, not framing systems."
Today municipalities throughout the country are using post frame construction to create fire stations, schools, and even government buildings. In nearby neighborhoods, post frame construction is used to build attractive private residences, churches, retail stores and even an award-winning historic district restoration projects.
None of these projects are "temporary" or "cheap" construction. In fact, post frame buildings have often managed extreme wind and weather conditions better than conventional buildings while adding to the aesthetics of the community.
Durability of Post-Frame
Well-constructed post-frame buildings have survived tornadoes, hurricanes, and high wind conditions extremely well. The design redistributes the wind forces evenly throughout the structure and redirects them into the ground. After some well-documented storms, post frame structures have remained standing while other buildings have collapsed or suffered extreme damage.
Advantages of Post Frame Construction
Zoning Boards that restrict post frame construction because they believe the process will result in unattractive structures are simply not informed fully. While the finished product can be easily as attractive as any other building in the neighborhood, there are important economic considerations as well.
First, the total cost of construction of post-frame is often lower. Post frame construction requires fewer materials, less labor, and less time to complete. Also, making modifications during construction without significant disruption is possible. Moreover, because of wide spacing between vertical members, additions are easily adapted later.
Second, post frame buildings are more energy efficient than traditional buildings. Because of the wide spacing of the vertical posts, insulation is more efficient. The closer spacing of traditional framing results in more breaks and loss of heat.
Finally, post frame buildings are easily the most sustainable. Framed with renewable materials and built with recyclable components, this construction is the most environmentally positive.
Want to discuss a post-frame building?  Contact us today!