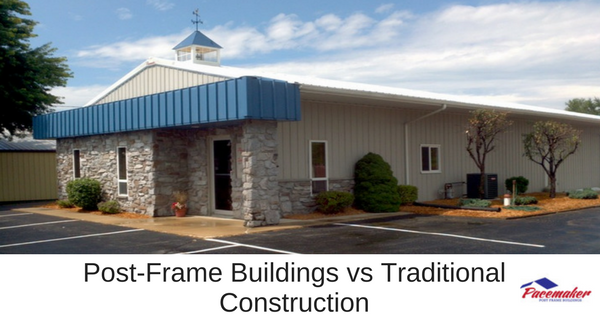 Builders and building owners are discovering the many advantages that post frame construction offers compared to more traditional stick or steel-framed buildings. The simple, yet sophisticated engineering of post frame construction delivers a durable, versatile, and economical alternative to other building methods.
Post frame buildings are ideal solutions for government and office buildings, fire stations, schools, churches, warehouses, commercial buildings, agricultural structures, recreational facilities, and, beautiful residences.
A full range of aesthetic touches like brick and stone facades, stucco exteriors, alcoves, etc. allow post frame construction to fit into any neighborhood while meeting all municipal building codes for safety and durability.
What are the Differences?
The differences between post frame construction over conventional methods fall into 5 categories.
Design and Construction Time

Post frame buildings can be custom designed to meet just about any requirements. Pre-engineered post frame components are precisely manufactured and delivered to the site for assembly. Unlike other types of construction, plan modifications may be made up to the time of construction.

Reputable post frame manufacturers like Pacemaker Buildings assist with all of the design and planning, site preparation, permits and code compliance.

Construction Cost

Efficient use of materials, shorter time-to-completion, and less specialized labor components all add up to a lower cost of construction. The materials are pre-engineered and delivered to the site and don't require many on-site adjustments. The highly engineered components including the truss and reinforcement systems all fit together to produce a tight and energy efficient structure.

Versatility and Expandability

Since post frame buildings do not use weight-bearing interior support columns, this construction method offers more open and unobstructed space. Not only is this advantage ideal for inventory storage, vehicles, and large animals, post frame buildings let you change interior layouts and office space easily. Not having to work around load-bearing walls brings some real advantages.

Building expansion is far easier due to the typical eight-foot spacing versus the xxx inches between vertical columns.

Durability

The vertical supports of post frame buildings are made of durable, treated lumber anchored four feet into the ground on concrete piers.

During severe wind conditions, the forces hitting a post frame building are redirected below and away from the structure. As a result, post frame buildings have survived tornadoes and major windstorms while nearby traditional buildings collapsed.

With custom design and superior components and materials, post frame buildings can be constructed to withstand most situations.

Energy Efficiency

A post frame building has thicker wall cavities than traditional buildings. Also, because the vertical supports are further apart, the insulation can be applied with fewer energy-sapping "breaks." In traditional buildings, narrowly spaced wood or steel supports act as conductors that allow more energy to escape.

The engineering of a post frame building is far more sophisticated than many often realize, though the design is far simpler than conventional construction methods. Fewer materials and less time-consuming processes result in a shorter design and build time. Changes can be made right up to the time that the building construction begins.
Consider Post Frame Construction for Your Next Building
More than just saving time and money, post frame construction has been a lifesaver for many municipal, educational, and commercial concerns. When a new building or addition must be durable and highly functional, yet held within a tight budget, rugged and beautiful post frame buildings are the best answer.
Municipal buildings, new schools, and annexes, and open span commercial buildings can be custom designed and in operation in far less time than with other construction methods.
Contact a leader in post frame construction, Pacemaker Buildings, at 888.834.4448. Our experts at Pacemaker will be pleased to walk you through the process from design to completion.
Save
Save
Save