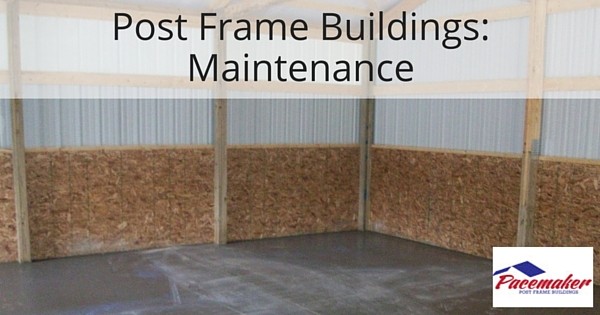 One of the many advantages of modern post-frame buildings is that these building structures require far less ongoing maintenance than other buildings. As with any building, however, many of the elements of the structure should be inspected periodically. But the simplicity of post-frame construction combined with durable external and internal materials usually warrant very little in the way of upkeep.
Developments in Post-Frame Construction
A well-maintained and constructed post-frame building will last a lifetime as an inexpensive option for many applications while providing a clean and attractive element to your property.
In years past, post-frame construction consisted of placing tempered wooden posts directly into the ground. While these members are treated to withstand temperature changes, moisture, and bacteria in the soil for decades without decay, eventually these will begin to deteriorate. These older buildings may need to be regularly inspected below ground level to determine if decay may have started.

Today there are a number of options for replacing those posts without tearing down the entire building. Replacement posts anchored in concrete or metal footings will eliminate these challenges. Also, there are various composite or laminate post materials that are resistant to the harmful effect of the soils, especially when anchored in pre-cast concrete foundations that extend the life of your structure indefinitely.
Modern construction materials and techniques completely protect the wooden posts with concrete piers, metal sleeves or brackets that separate the wood from ground elements. These types of supports give long-lasting protection and durability that requires little or no maintenance in the future.
Economy
While post-frame construction is an inexpensive option for many types of buildings, maintaining the structure to prevent damage from the elements over time will save even more money. A properly built and tightly sealed post-frame building will last a lifetime if you exercise routine inspection and maintenance measures to prevent the damage that results from neglect. Simple inspection and minor repairs and replacements, as with any type of building, will save time, money and worry in the future.
Metal Siding and Roofing
Post frame buildings often utilize metal siding and roofing. These are highly durable and
long-lasting. But care should be taken to ensure that everything remains intact. At least once per year, routinely inspect the fasteners and seams to make sure nothing is pulling loose. During a severe storm, any small gap in the integrity of the roof or siding can result in negative things like water damage.
As for appearance, an annual pressure washing should be considered to maintain the "like-new" look. The appearance is more easily maintained for a longer period with high-quality paints that do not deteriorate quickly over time.
Windows, Doors, and Insulation
To maintain a well-protected interior and eliminate problems from penetrating elements, it is always important to examine the seals and integrity of the windows and doors. Slight adjustments and routine replacement of seals as needed will keep the structure clean and dry and prevent future degradation. Keep the rain and wind outside where they belong.
Insulation should also be checked regularly to make there are no gaps developing that can cause energy to escape and allow you to maintain desired temperature ranges within the building.
Low-Cost to Own and Maintain
Compared to steel or other types of construction, maintaining a post-frame structure is far less intensive. Since the building utilizes fewer materials to construct and the support components are widely spaced, keeping a post-frame building in good shape is relatively easy. Repair and replacement, when needed, is a far simpler process than with other types of buildings.
Considering a new building for commercial or private use? Contact Pacemaker Buildings to discuss today!