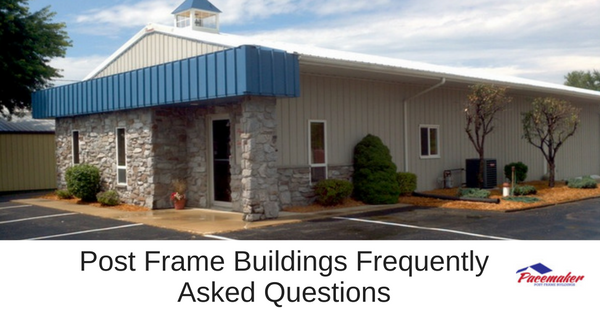 Post-frame buildings are durable, energy-efficient, and an economical solution for many types of construction. State-of-the-art post frame construction methods have been adopted for civic buildings, schools, fire stations, churches and private residences.
Is a post-frame building the same as a pole barn?
Yes and No. While some pole barns may employ elements of post-frame construction; post-frame buildings are certainly not just pole barns. The vertical frame elements of post-frame buildings consist of treated sawn lumber beams solidly anchored at least four feet into the ground. These beams are protected and stabilized in metal sleeves or concrete anchors that are exceptionally resistant to high winds and storm situations.  Post-frame goes beyond the typical pole building construction features to give you a stronger frame.
How durable is a post frame building?
In recent years, post-frame buildings have withstood high winds and powerful storms better than other buildings. The reason is that the load-bearing columns, embedded directly into the ground up to four-feet, offer greater resistance to the wind than traditional "stick-built" structures. The design of a post-frame building transfers the wind forces to the columns and into the ground.
Are post frame buildings less expensive to build? Why?
Yes, post-frame buildings are less expensive to construct for several reasons. First, the total time required to build the structure is less than with other types of construction. Post-frame consumes less material and energy and requires fewer specialized laborers. Site preparation is far simpler since only a level lot is needed.
Moreover, if additions are required, the process is easier. Because the spacing between the vertical supports is up to 8 ft., adding and connecting a new addition is far simpler than with conventional framing.
Do post frame buildings meet building codes?
Yes, post-frame buildings are durable and attractive buildings. This construction is simply another option for framing a new structure. Occasionally local code ordinance makers have confused post-frame construction with less attractive pole barns. However, their decisions are usually based upon an appearance perception, not durability. The real motive was to eliminate "ugly" buildings, though many post-frame buildings are more attractive than conventional ones.
Post-frame structures grace urban streets in many areas of the country. Some recently built police and fire stations, libraries, and schools complement urban areas with traditional wood and brick facings, stucco accents, and beautiful landscaping.
What architectural features can be added to a post frame buildings?
Many residences and civic buildings have been built using post frame construction. Virtually any shape-altering feature can be added to a post-frame building. These do not have to be just rectangular in shape. L-shapes and many other designs are available. Alcoves, gables and dormers, and any other features add distinction to the building's visual and practical appeal. Siding can be wood, stone, brick, adobe, stucco, or any other material.
How are post frame buildings more energy efficient?
Because of the post- frame's 8-foot spacing (16" only for conventional framing) of vertical members, insulation has a more continuous presence. Without the gaps and piecemeal placement of the insulation materials in standard construction, the roofs and walls of the post frame building are better insulated and use less energy.
Are post frame buildings sustainable?
Post frame buildings use less energy to build and operate. All materials are recyclable. All materials used are either renewable (wood) or made from recycled materials. Construction requires far less disruption to the landscape than other types of construction.
Post Frame Solutions
More and more, post-frame construction is being recognized for attractiveness, economy, efficiency and sustainability. Many school districts and cities are finding that post-frame buildings are the solution when looking for a faster, less expensive and practical answer.
Have more questions?  Please contact us and we'd be glad to discuss.
Save
Save
Save