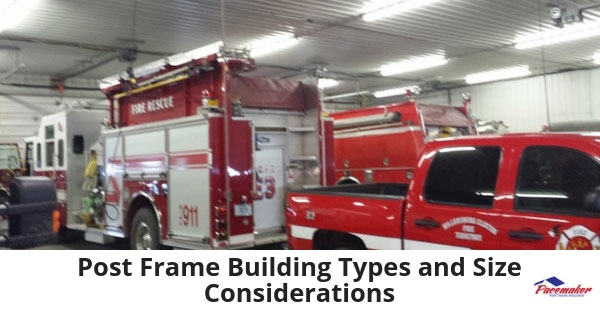 There are few limits to the potential uses of beautiful and economical post frame buildings. Some of the benefits are ease of construction, durability, expansive uninterrupted space inside. As well as featuring modern techniques and materials, post frame buildings have become a premier solution for many more applications than just merely agricultural structures.
Post frame construction has evolved from simple pole barn buildings into highly sophisticated, technically engineered and durable structures that offer the aesthetics of more conventional buildings.
The Versatility of Post Frame Construction
Are you planning for an economical, energy-efficient, and durable civic building? One that doesn't involve those space-wasting, weight-bearing columns and pillars? How about a retail or office building with the flexibility to accommodate changes in the interior layout?
Or, are you considering a cost-effective building? One that can go from initial blueprints to finished construction in a much shorter time without breaking the budget? Consider also that post-frame construction allows for easy future additions without disruption to your existing space.
How about a post frame structure for your school or church? The open design allows for easy adjustment to growth and flexibility by allowing you to move walls as you wish, not restricted by existing structure.
How are Post Frame Buildings Constructed
In simplest terms, and with some variations, the basic structure of a post frame building is a framework consisting of sturdy treated wooden columns. Columns are sunk at least four feet into the ground approximately six to eight feet apart. In addition, the columns are anchored on concrete piers or another system for permanent stability. The posts are joined by horizontal members to create a solid box. The roof consists of prefabricated engineered trusses lowered and solidly anchored onto the frame.
Site preparation involves leveling the footprint where the structure will sit and providing the proper compactable granular fill material.
The exterior cladding can be anything from steel, brick, masonry, wood siding, stucco, or combinations of these. Install the roofing material and the landscaping of your choice and the outer appearance of the completed building becomes a beautiful addition to the neighborhood.
Install utilities, insulation, interior covering, and the interior layout and your beautiful new business, home, school, church, civic building, fire station, retail space, auto dealership or service center, storage facility, or barn is often ready to go in less time of a conventional stick frame or brick structure.
Popular Applications for Post Frame Construction
Check out the website of Pacemaker Buildings, a leading designer, manufacturer, and builder of post frame buildings, and components in Northern Indiana, Southwest Michigan, and Northeast Ohio. Pacemaker features a Gallery of their many successful post frame buildings in Elkhart County, St Joseph County and more. The photographs include buildings for commercial, residential, suburban, civic, equestrian, and agricultural buildings.
Civic Buildings and Schools
City and county budgetary restraints frequently restrict the addition of new space. Post frame is an ideal economical option since the technology reduces the time from design to construction. Moreover, post frame construction makes efficient use of materials required to build and the adaptability of the new building to future change.
Fire Stations, Municipal Equipment Storage, Car Dealerships
The open, unobstructed space within a post frame building allows for smooth movement and storage of large and small vehicles. Therefore, without the weight-bearing columns to interfere with maneuvering, post frame is perfect for handling heavy equipment.
Retail Space
Retailers need sizeable open space for their customers to view more within the building to find areas they may seek. Obstructive pillars "chop up" space and makes the building seem smaller.
Schools and Churches
For their growing and changing needs, schools and churches can add and adapt their space easily than when permanent walls have been built into the structure.
Contact Pacemaker Buildings
For more information regarding the economics, durability, and sustainability of post-frame construction, contact Pacemaker Buildings. You can visit their website to increase your understanding of post-frame constructions many advantages.
To speak with a Pacemaker professional about your next project, phone Pacemaker at (888)-834-4448.