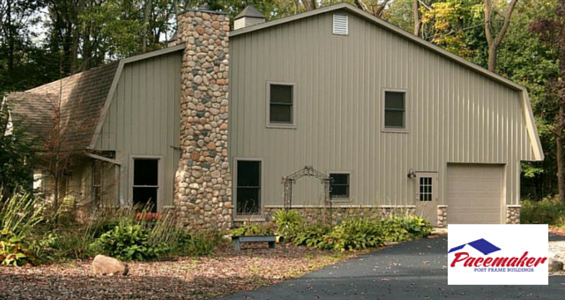 Yes! A post frame, or pole barn, building can be a great home! It's got size, space, high ceiling options and more. Let's dive into the details a bit more.

What is a Post Frame Building?
A post frame building is a simplified building technique adapted from the traditional timber-framing technique. Instead of needing studs, steel framing or concrete masonry, post frame building simply uses large poles (or posts) buried into the ground.
The design of a post frame involves building on a foundation to provide vertical, structural support and girts to provide horizontal support.
Benefits of Using a Post Frame Building
Here are just 5 of the reasons you should consider a post frame building for your next dream home:
1. Quick Assembly
Once the poles, girts, and trusses are in place, the construction work can be handled by a small crew over the course of a short season, and have the shell completed in as little as one month! It is often much quicker to build than other stick-built methods.
2. Strength
Many people may not realize that post frame buildings are often stronger than buildings produced with other materials. Why is that?
The laminated columns go all the way into the ground below the frost line, making the building more stable and resistant to the wind.
The horizontal connecting framing members create a strong-box shape that acts as a diaphragm design which increases the ability of the building to withstand destructive weather disturbances.
By connecting the truss system directly to the laminated columns it often creates a stronger roofing system than other types of construction methods.
The post-frame structure creates a "diaphragm effect" – it has the ability to bend and flex under stress. Other building structures will crack, crumble, and even collapse when under the same amount of load.
In an area with potentially strong storms, high winds, and even tornadoes, post frame buildings can give you a firm and safe foundation.
3. Flexibility
Want some seriously high ceilings? No Problem! Want a loft or unique staircase, yes, it can be accommodated! Your design dreams can be a reality inside the structure.
It is easy to add additional elements like overhangs, a steeper roof, a porch, etc.
It does not require interior walls for support so you can design the inside however you want, and it is easier to build those walls.
The supporting columns can be placed 6-8 feet apart, making it easy to add additional doors and windows later on.
A stud wall is very expensive and challenging to add spaces in, but a post frame building has a wide variety of options that are easy and cost effective. The exterior can be steel, block, brick, vinyl, wood – just about anything to create the look you want.
4. Affordability
Your cost for labor may be much less than it would be for other kinds of construction because it is very fast and efficient.
Fewer materials are needed due to the greater loads handled by larger posts and interlocking frame, which saves time and money.
5. Energy Efficiency
Steel frame buildings conduct heat at a much faster rate, which makes them very difficult to insulate effectively. However, wood post columns conduct very little heat in or out.
Concrete block buildings are even more difficult and expensive to insulate because concrete itself has almost no insulation ability.
There is a larger wall cavity due to the posts being spaced farther apart than studs. This provides more room for insulation, which lowers heating and cooling costs of the home.
An added bonus: A post frame building is better for the environment. You could potentially disassemble it and recycle all the components!
Contact us, we'll be happy to answer your questions and discuss your new post frame home/building.