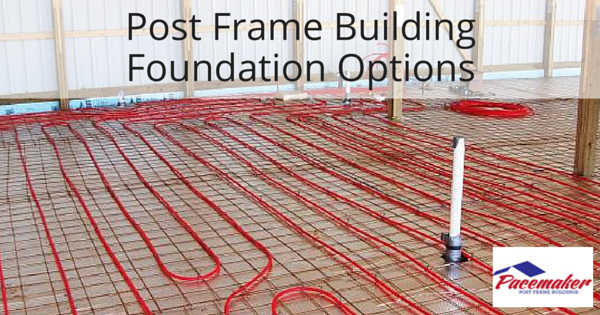 It's time to talk building foundations.
When you build a commercial building, ag building, or one for your home or horses, there are different types of foundations and post-frame buildings give you flexibility in what you use. Post-frame construction is an attractive, economical and long-lasting option for many types of buildings. A favorite for barn construction for decades, post-frame has developed into a viable solution for schools, municipal buildings, fire departments and even private homes. New technology, materials, and improved techniques have added substantially to the overall viability and longevity of post-frame buildings for a wide variety of applications.
Durability of Post-Frame Construction
In the past, a pivotal question regarding post-frame construction may have been the durability and integrity of the foundation. Current techniques and new materials have dispelled these questions. As a result, modern post-frame structures are as durable and long-lasting, if not more so, as any other building made with traditional methods and materials.
Reducing Ground Exposure in Post-Frame Construction
It is no secret that untreated wood will eventually deteriorate when directly exposed to soils, microbes, and moisture in freeze-thaw conditions. Treated wood can withstand these conditions far longer, even decades, without signs of deterioration.
Post-frame construction starts with precisely spaced wooden posts or columns for essential support. Enhancing the permanence of post-frame construction has inspired the development of foundation solutions that completely segregate the wood or laminate components from damaging soil and excessive moisture. Such solutions have propelled post-frame methods into the forefront of construction. Some of these methods may even be used to retrograde or repair existing post-frame buildings also.
Post-Frame Foundation Options
One successful foundation solution is the implementation of Pre-Cast Concrete Piers. These specially prefabricated units are placed in the ground at measured intervals, and the wood posts are inserted into protective brackets at or above ground level.
In-ground pre-cast Reinforced Concrete Columns with specially-fitted, U-shaped brackets that extend above ground level can be affixed to the wooden or laminate posts. These elevate the wood components above the damaging conditions. The columns should be constructed of the highest density concrete to resist the damaging freezing/thawing conditions. Concrete forms with of 10,000 psi rating could even outlast conventional buildings that are made of considerably lower quality concrete.
Poured-in-Place Concrete Pier is an on-site process in which a pier bracket is placed into the concrete in at surface level while the medium is setting. Once the concrete is set, the wooden posts are permanently affixed within the brackets.
Asphalt and Polyethylene Coating is another option. In this scenario, the sawn wood or laminated posts are factory-coated with asphalt and a layer of polyethylene that seals and separates the wood from damaging underground factors.
Blow-Molded Plastic Form encasement can be attached to underground concrete footings to completely surround the wooden posts. This form, with ribs attached to the posts, prevents uplift of the structure and completely separates the wood from exposure.
HDPE Plastic Barriers are often used. These are pre-made sleeves that completely enclose the post or column. The base is also enclosed, and cleats are incorporated to prevent any uplift due to changing weather, shifting soil or other conditions.
In certain situations, Wall Brackets anchored to conventional concrete or masonry foundation walls or concrete slabs may be utilized to separate the posts from harmful exposure.
Adding Permanence to Post-Frame Construction Advantages
Each of these solutions began with the same premise: Keep the wooden components effectively separated from exposure to underground conditions, and post-frame buildings provide multiple viable answers to this. Post-frame construction can withstand just about any conditions, above or below the ground.
With strength and flexibility added to the post-frame features of economy, reduced construction time, and attractiveness, post-frame construction is a great solution for many commercial, ag, equestrian, and suburban building requirements.
Interested in talking further? We're always just a call away! Fill out our contact form to get in touch.