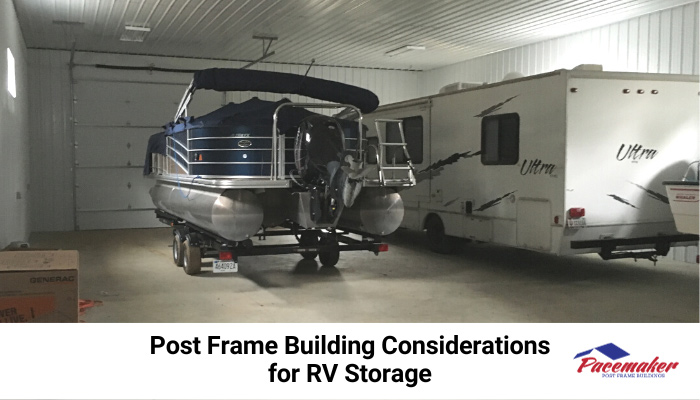 RV storage buildings are among the most popular suburban post frame buildings being built. The increased use of RVs during the 2020 pandemic plays a significant role in the importance of these buildings. However, RV owners thinking about post frame RV storage solutions should be mindful of certain factors to avoid problems later. So, let's discuss some of the necessary considerations to ensure your RV storage unit fits your needs and can serve you for a long time.
How will you use the building?
While storing your RV is the primary purpose for the building, don't forget to add additional space for other purposes. For example:
Storage for items you usually take when camping
Overflow from your garage or for lawn care equipment
Shop or workshop space
Office, man cave or den
Kitchenette and bathroom
Your new space can include other areas inside without much additional cost, interior walls are easy enough to move later on. However, any plumbing or electrical should be planned for in the original build.
Plan for Expansion and Growth
Your post frame building can be much more than just a storage facility for your current RV. Consider several years ahead when you may have a larger RV or additional vehicles. This may require additional space and larger doors. In most instances, needs tend to increase rather than decrease. Make sure you build for the future needs of you and your family.
Consider Enhancement Features
Before beginning to build, consider features for your new building. These can help your RV storage building be more functional and offer more useability. You can add porches, windows, cupolas and much more to your new building.
A professional post frame building company like Pacemaker Post Frame Buildings can offer several additional features to add to the utility and beauty of the structure. Talk with these professionals about the look and feel of your new building.
Don't Forget Aesthetics
Your new RV storage structure will sit on your property for a long time. While it is nice to have one, it is even nicer to have one that looks great, matches other buildings, and will look better as time passes.
Post frame buildings can have a variety of finishes. Everything is customizable from the colors to the materials. Furthermore, you can use wainscoting, gables, alcoves, and other features to fit the aesthetic of the surrounding buildings.
Consider using wood or masonry features to add to the beauty of the overall structure. After all, your RV storage building doesn't need to just look like a boring box or large garage.
Contact Pacemaker Post Frame Buildings in North Webster, Indiana
Pacemaker Post Frame Buildings has been helping customers with their post frame planning for over forty years. The experts at Pacemaker understand your needs and can provide a solution that matches your dreams and budget.
Pacemaker professionals help clients in Northern Indiana, Northwest Ohio, and Southwest Michigan solve their storage challenges with ideal solutions.
If you imagine a new RV storage facility or other agricultural, warehouse, civic, or residential building, contact the experts at Pacemaker to help you design, supply, and build your structure correctly.
Visit the Pacemaker Post Frame Building Gallery of past projects, and you will see how beautifully they have solved the problems of their clients.
Complete the brief Contact Us Form on the website, and one of their experts will contact you directly.
Or you may talk with a Pacemaker professional directly about your needs by calling 888-834-4448.