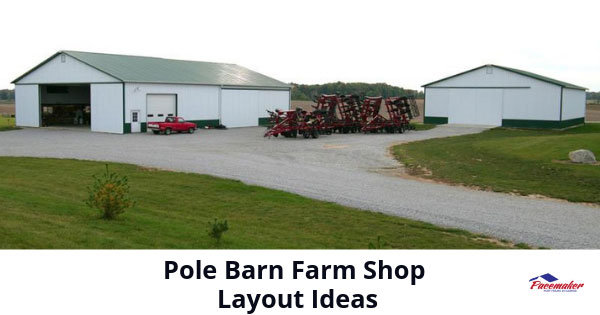 Post frame buildings, also known as pole barns, are one of the most useful buildings on a farm. And generally the most versatile. Commonly designed for housing large animals and equipment, pole barns are also ideal for storing feed, tools, tack, and other necessities.
Another typical application within a modern post frame building is the addition of a farm shop. Whether the entire building is to become a workshop for your vehicles and equipment repair, or part of the building is to be partitioned off to become a shop. Therefore many options are possible.
For those who need the room to make or repair items for use on the farm, having a well-equipped and orderly shop can be well worth the investment in space and cost.
Include a Pole Barn Farm Shop in Your Building
Creating a shop within your existing post frame agricultural building for keeping tools and working on equipment or woodworking projects is not difficult. The interiors of any post frame structure are not obstructed nor limited by interior beams or load-bearing walls.
The openness makes selecting a location to partition for a shop an easy decision. Your plan should be to locate space that does not limit other uses of the building while creating a sufficiently sized, well-lighted area to work and store supplies and tools efficiently.
If you are starting from scratch, you should plan a specific area of the building for working on equipment. Also, carve out ample space for storing spare parts, fuel, lubricants, tools, air and oil filters, and anything else you may routinely need. Having enough space to keep everything orderly allows you to:
take advantage of volume purchases
keep everything in its place
not lose tools and parts because of over-crowded conditions
To accommodate large vehicles, you may include an oversized overhead or sliding door. If you wish to store items upstairs, an upper floor may be added, and a stairway added.
And, for convenience, adding a bathroom is a great consideration.
Money and time saved by these advantages plus the efficiency of being able to perform your service efficiently will eventually pay off any additional expense of creating a barn shop and storage in your post frame structure.
Create a Dedicated Post Frame Shop Building
For those dedicated to creating their own "garage" workshop, post frame buildings are perfect and economical. Easy and quick to build, using fewer materials and less labor. These buildings can be designed to replicate the appearance of the main home or other buildings. Owners can purpose-design their post frame structure to fit their needs. Thus precisely creating the right amount of space, customized configuration, and the appropriate door size for the intended purpose.
Contact Pacemaker Post Frame Buildings
Custom-designed and built post frame farm and home workshops are popular options for those who repair and service equipment themselves. In many instances, these shops serve as wood or metal workshops to restore or create new items for the home or farm.
Pacemaker Post Frame Buildings has been serving the upper Midwest and Great Lakes Region with design, materials, and support for high-quality post frame buildings for four decades.
Visit the Pacemaker website to see their Gallery of the remarkable and versatile buildings that they have created.
If you are looking for detailed information regarding post frame barns, garages, sheds, and outbuildings for workshops or other purposes, contact the experts at Pacemaker. They will be happy to discuss your project.
Phone Pacemaker Post Frame Buildings at 1-888-834-4448.