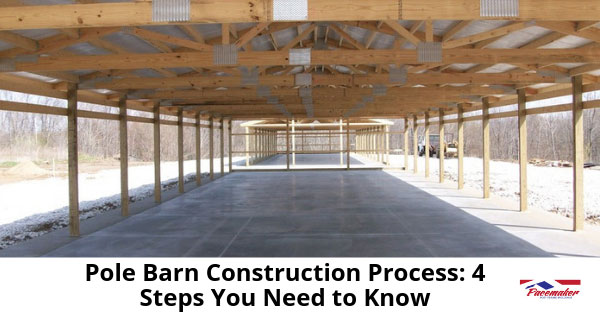 Pole barn construction process in 4 efficient steps. Pole barns and post frame buildings offer many advantages over conventional construction methods. As they are supported by vertical columns embedded at a minimum of 48" into the ground, concrete foundations are usually not needed. As a result, site preparation is simplified, typically requiring removing the organic material and building a pad with granular compacted fill material, respectively.
Additionally, the pole barn framing process is generally more efficient since the complex network of "stick frame" construction is not needed.
Building a Pole Barn from Concept to Completion
While pole barn design and construction are significant; following the correct procedures to do it will help to avoid headaches along the way.
Here are the four necessary steps for constructing a quality, long-lasting post frame barn.
Builder Selection and Contract Development
Select a reputable builder with experience and expertise specifically for post frame buildings. Collaborate with them on planning, permits, start time, construction time estimates, cost estimates, and other details that can be envisioned at this time.
If needed, you will begin to work with a lender for financing during this phase.
Design, Planning, and Permits
Working with your builder's design team, finalize the plan that incorporates all requirements for the post frame structure. Pay attention to:
Floor elevations
Access and egress points
Doorways and windows
Storage capacity
Directional orientation of the building
Possible overhead obstructions such as trees and powerlines
At this stage, you should be able to stake out the perimeter.
Once the plans are fully conceptualized, it is time to head to the local authorities with these to get permit approval to proceed. A contract may be created at this time, although design changes may create some modifications later.
At this point, you and the project manager will organize the list of materials and dimensions needed to build the barn. Allow the supplier enough time to produce and ship the building components to the site.
Pre-Construction Phase
With plans in place, permits in hand, contract completed, materials ordered, and financing secured, the pre-construction process can begin.
Site preparation for post frame buildings requires that the ground is level. Additionally, all vegetation must be removed to at least four feet from the external perimeter of the proposed building. The surface around the base of the building should slope away from the structure to ensure that water does not accumulate within the structure.
With site preparation complete, you will need to request a site inspection before moving on to the construction phase.
Construction and Completion Phase
The expected arrival of the construction materials on-site and the availability of the builder's crew will determine the official start of the construction.
Construction preparations will include:
Final review of the design
Materials inspection to ensure everything has arrived
Laying out components in "envelope fashion" to determine that everything "fits" properly
Workforce assignments
At this point, the time to completion estimates should be accurate. One advantage of post frame construction is that the build-time is generally shorter than with other types of construction due to the efficiency of design.
Upon completion, conduct a walk-through inspection with your builder representative to identify any issues.
Contact Pacemaker Post Frame Buildings
Pacemaker Post Frame Buildings is a leading manufacturer, designer, and builder of post frame materials and buildings. For four decades, this Northern Indiana family-owned and operated construction company has created post frame buildings for municipal, agricultural, retail, educational, religious, and equestrian uses.
Before beginning your pole barn or post frame building project, consult with the experts at Pacemaker to help you through the process.
Visit the Pacemaker website to view many of their beautiful and highly functional completed projects.
For more information, phone the professionals at Pacemaker Post Frame Buildings at 1-888-834-4448.