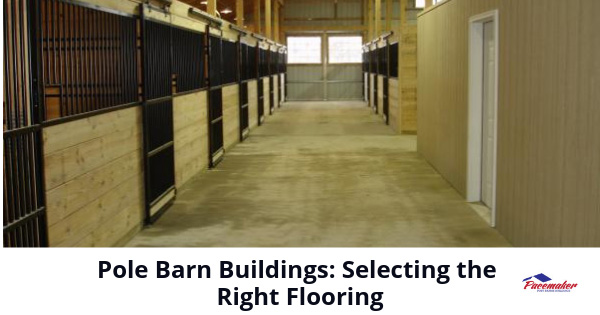 Modern pole barn buildings, or post frame buildings, are appropriate for many uses. Pacemaker Post Frame Buildings, headquartered in Northern Indiana advises, designs, manufactures, and constructs pole barn structures for nearly every segment of the market. Pole barn building is high-quality, economical, versatile, and durable. Thus, pole frame buildings are becoming an ideal choice for civic, suburban, agricultural, and equestrian buildings everywhere.
Selecting the right flooring for the intended application is an essential element of any new pole barn structure design. Therefore, depending on the building's use, floors in pole barn buildings might range from soft dirt to highly engineered flooring designed for comfort and durability.
Selecting the Right Flooring
Choosing the right flooring for a pole barn building is much the same as for any building. However, since pole barn construction is appropriate for more uses than conventional construction methods, the range of flooring options is more extensive.
Concrete Flooring
For manufacturing, warehousing, and equipment storage and movement, concrete is an ideal option. The material is easy to clean, durable and may be reinforced to support excessive loads. Treated and painted concrete in a pole frame structure is frequently used for indoor sports due to the clear space within.
Dirt or Sand Flooring
For some applications, dirt or sand flooring is ideal. Horses and other animals overexposed to solid flooring typically sustain hoof and leg injuries. Therefore, by providing a soft footing, those injuries are avoided. Softer surfaces are better in equestrian centers. Allowing you to add or replace as needs arise.
Sealed Rubber Matting Flooring
Equestrian centers and veterinarians today are also suggesting various composite rubber flooring materials to ease the strain on horse bones, joints, and ligaments. Not only do these materials relieve stress on the musculoskeletal systems but require lower volumes of bedding. As a result, the environment is cleaner with less barn dust, thereby improving the animals' respiration. The material is easy to clean and more sanitary than standard bedding.
Heated Flooring for Pole Barn Buildings
In colder climates, constructing a radiant heat flooring system is useful. Especially where workers must stand for long periods or customers are moving about. Planning your pole barn with heated water or electric coils in the flooring system pays off in employee and customer comfort. Additionally often reduces heating costs. Pole barn professionals can advise the best approach for your situation.
Wood Flooring
In pole barn offices, retail establishments, schools, churches, or residences, wood flooring is ideal. The surface is comfortable to walk on and attractive, evoking an aura of style and beauty to the interior.
Having a level site to construct your pole barn buildings is highly recommended and usually necessary. However, some have successfully built pole frame garages, small shops, and buildings on sloping elevations by using longer posts on the downslope. The grade variation beneath is mitigated by a reinforced, raised wooden floor system.
Contact Pacemaker Post Frame Buildings for Information
For nearly four decades, Pacemaker has provided advice, materials, and support for property and building owners who elected to employ high-quality and durable pole barn construction.
Visit the Pacemaker website for information regarding the benefits of pole barn construction. When compared to other types of structures, pole barn buildings are:
Cost-effective
Require shorter construction time
Expandable
Versatile
Adaptable
Energy efficient
Contact the Pacemaker Post Frame Buildings professionals to explain how pole frame buildings can be the solution to your needs. Additionally, we can provide guidance on selecting a type of flooring that works best for your needs.
Call the experts at 1-888.834.4448.