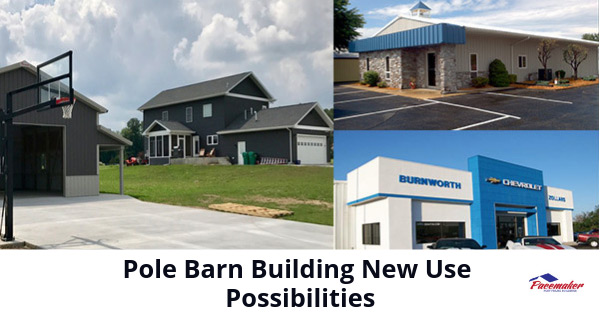 When anyone mentions pole barn, your first reaction may be a large, metal or wood-sided building sitting on a piece of agricultural property with vast unobstructed space within. Perfect for keeping animals, machinery, hay, feed, seed, and farm implements. Pole barns or post frame buildings almost always have been mentioned in the context of agriculture.
However, with advances in materials, durability, exterior accessories, and techniques, post frame buildings are common for municipal buildings, retail stores, equestrian centers, fire stations, schools and school annexes, churches. As well as, personal residences.
Pole barn or post frame buildings offer practical and economic advantages. They are durable and versatile, adaptable to just about any use. Having wide, clear, uninterrupted space makes these perfect for large gatherings.
New Uses for Pole Barn or Post Frame Construction
The number of ways post frame buildings are used continues to grow. Here are a few recent applications:
Special Event Centers
Communities realize the value in building an economical and sufficiently sized post frame structure to feature special events, community gatherings, civic affairs, meetings, weddings, small trade shows, reunions, and many other events. Flexible space configurations are a standard benefit of a pole barn. The ability to configure a space with temporary partitions to allow for flexibility of needs from one event to the next.
Truck Repair and Service Building
Tractors, trailers and other large trucks and equipment demand considerable vertical space. Post frame structures offer large entryways. Hence able to accommodate the length, width, and height of massive vehicles and equipment.
RV Maintenance
Perfect for accommodating several large RV vehicles, post frame buildings built without interior vertical supports within allow easy maneuvering by RVs, automobiles, trucks, and other vehicles.
Veterinary Clinic and Boarding Facility
An emerging opportunity, owners of veterinary hospitals and boarding facilities are choosing to use post frame construction for new facilities. These buildings offer significant flexibility for configuring the space as the business needs change.
Dividing sections can include the reception area, clinic, examination rooms, boarding kennels, and indoor play areas. Thus, repartitioning to accommodate shifts in business demand is a big advantage of a post frame structure.
Why are Post Frame Buildings Becoming Popular for So Many Applications?
The reasons for post frame/pole barn popularity can be summarized as cost, versatility, flexibility, and durability.
Cost
Post frame structures allow for efficient use of materials and labor, easier site prep, and a shorter time from plan to completion. In addition, a post frame building is often more energy efficient than conventional structures because insulating materials can be more uniformly installed.
Versatility
You can style and configure a post frame building for any purpose. With no permanent load-bearing walls, it's simple to reconfigure the structure.  For instance, the interior space of an office building can accommodate a growing staff with by easily moving partitions. Similarly, in a residence, no need to endure a major remodeling project and expense, when you need to add or remove bedrooms.
Flexibility
Because of the wide 6-10-foot spacing between the vertical columns, adding a new section to an existing building is much easier than with other types of construction.
Durability
Post frame buildings are built with treated wooden columns usually anchored onto concrete at least four feet beneath ground level. During a heavy windstorm, post frame structures fare very well. Due to the fact of its ability to redirect wind forces evenly into the earth through the posts. Conventional buildings attached to a foundation often snap off at the ground level causing the damage that we often see.
Contact Pacemaker Post Frame Buildings for More Information
For more information, contact the experts at Pacemaker Post Frame Buildings located in Northern Indiana and serving Southwest Michigan and Northwest Ohio and Northern Indiana.
Visit the Pacemaker website to view some of the many uses of their completed structures.
Phone Pacemaker at 1-888-834-4448.