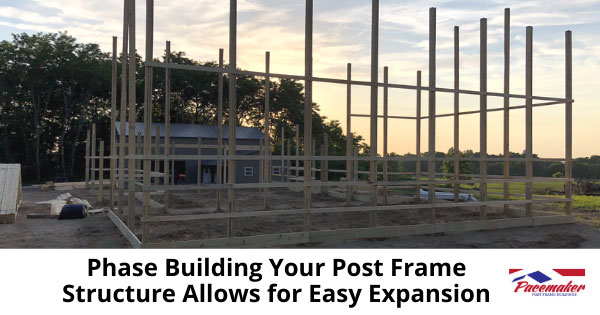 Sometimes our initial ideas and projections turn into something much bigger. This problem often arises as planning begins on post frame buildings. Whether your building is designed to maintain and service farm equipment, a fully equipped metal or wood shop, or is used to restore and house antique cars and trucks, your needs can quickly grow beyond your initial idea. Consider the idea of phase building your post frame structure.
Or, you may have already calculated precisely how much space you will eventually require. Unfortunately, during this process, you realize you cannot afford to have the entire job completed at once. In these instances, phase building may be the best option for your project.
Post frame construction is great for phase building as it offers the greatest flexibility for future expansion. This is due to the vertical beams being widely spaced at 6-10 feet. Therefore removing parts of the wall to create new space is easily accomplished compared to conventional construction methods.
Phase Building Your Post Frame Structure
Planning
When designing a building to house your vision, you will need a plan that will allow for straightforward, compatible upgrades, and expansion.
Your initial plan should address the capacity you believe you will need in the future. Building too small at the beginning can be frustrating. But having no room to expand can be much worse.
Considering Lot Placement
Proper planning to expand without obstructions or other problems will make growth more efficient and affordable.
Note that where you locate "Phase 1" of your building can impact future expansion. If vehicles or large equipment will be involved, placement for accessibility is essential in the planning. Leave enough space for your add-on, plus sufficient maneuvering room for your vehicles.
Ensure that all possible phases are on the initial plan, this will be essential for building future phases. You can even build phases 1 and 2 on opposite sides of the lot and connect them later, as long as it's planned out.
Build It Now; Finish It Later
If your budget is the main limiting factor, and you require the extra space for storage initially, you could build the entire shell but partition a finished section from the rest with an overhead door or two. This will allow you to expand your workshop when you have the funding. You can perform the entire site preparation, and construct the entire outer shell.
Then you can put the finishing touches on the part of the building you will use immediately. This includes the electricity and plumbing work for the needed work area.
Later, when you are ready, and the funding is available, you can finish the incomplete part of the building with plumbing and electrical work. During this completion phase, you can consider completing the insulation and adding the HVAC, walls, and ceiling finishes as well.
Consult the Experts for Expandable Designs
Companies like Pacemaker Post Frame Buildings have experienced designers who are familiar with developing plans for future expansion.  With your vision in mind, they will work with you to develop strategies for a building that will meet your immediate performance demands without busting your budget.
Pacemaker Post Frame Buildings, headquartered in North Webster, Indiana, is a premier supplier and builder of post frame buildings. For four decades, Pacemaker has led the way in innovation, superior materials, creative techniques, and personalized design throughout Northern Indiana, Southwest Michigan and Northwest Ohio.
For more information and to view some past projects, visit the Pacemaker Post Frame Buildings website. If you have questions about designing your shop for future expansion, call the professionals at Pacemaker Post Frame Buildings at +1-888-834-4448.