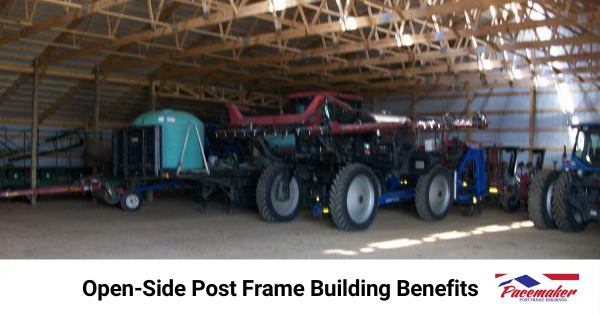 Not all buildings require four enclosed sides to be effective. It may seem strange, but sometimes a single open side on your new post frame building makes a lot of sense. Open-side post frame building benefits are many. For one, it makes the contents of the building far more accessible while still protecting the interior from rain and snow.
For example, think about a post frame structure that houses large machinery. This machinery must move in and out of the building frequently but often do not demand climate protection. Having an open-sided building can help protect the machinery and make it easier to access.
Or perhaps, you will use your open-sided post frame building to store durable goods like metal or wood. These products are usually too cumbersome to maneuver through doorways, especially at longer lengths. Those are just two examples of how practical an open-sided building can be.
Advantages of an Open-side Post Frame Building
Convenient Access
For farmers, construction contractors, and transportation depots, an open-sided post frame option offers the most efficiency. It also helps to reduce the hassle of moving through, opening, and closing doors several times a day.
Seasonal usage is often a factor in choosing to build an open-sided structure. Farmers, for example, may choose to store certain seasonal equipment like discs, tillers, planters, and other machinery for easy access. However, they may then move these to a four-sided structure for secure storage when out of season. At this point, they may choose to use the structure to protect animals from the weather, or to store feed or fertilizers.
Hook-Ups are Easier to Perform
With an open-sided facility, users can hook up or change equipment quickly without unnecessary maneuvering. They may disconnect a tiller from their tractor, for example, and quickly join to another accessory without much effort. This can increase productivity and prevent accidents.
Easy to Expand the Building
Post frame building methods already allow for easier expansion compared to other building methods. As operations grow, expanding an open-sided structure is just as simple. If you think you will expand, be sure to allow enough adjacent ground space to accommodate a larger footprint in the initial planning stage.
Low Maintenance and Energy Costs
Three-sided structures require little to no maintenance and minimal power. As with any other design, continual inspection, repairs as needed, and occasional washing will keep the structure looking new. Additionally, you will save on heating and electrical costs as this structure is primarily for storage and weather protection.
Planning Your Open-Sided Structure
When planning a new post frame open-sided structure, the primary consideration will be how you expect to use the building.
First, determine the square footage you require. While expansion is more straightforward with any post frame building, designing correctly at the outset is the best course for saving time, money, and hassle later. Try to centralize the site to minimize unnecessary travel time and fuel usage, placing the equipment and material in the most convenient spot.
For seasonal equipment, consider positioning the open-sided building closer to where you will use the equipment. Strategic positioning saves time and fuel costs when moving to and from the action. When the equipment will no longer be needed, repositioning to an off-season enclosed storage facility is easy.
Remember, the cost-per-square-foot to build an open-sided post frame building is often less than with an enclosed structure. Clearly, you will have one less wall, but you will also eliminate the need for windows and doors. In many cases, you only need compact gravel flooring and any extra accommodations for ventilation are now unnecessary.
Visit Pacemaker Post Frame Buildings in North Webster, Indiana
Serving agricultural, commercial, and civic clients throughout much of Indiana, Michigan, and Ohio, Pacemaker Post Frame Buildings has been a leader in post frame technology for over four decades.
Visit the Pacemaker Gallery webpages to view some of their many remarkable finished creations of every kind.
For questions, information, or to schedule a consultation, contact Pacemaker Post Frame Buildings by completing the Contact Us Form or call (1) 574.834.4448.