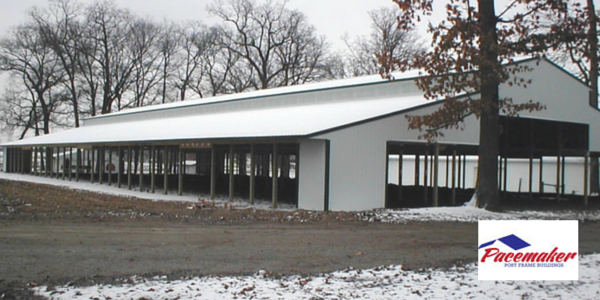 Are you looking for an easy way to keep your livestock and equipment safe? Many people have invested in post frame buildings because they are quick, sturdy and affordable housing solutions for their animals and storage needs.
If you're thinking about investing in a post frame building, it's important to know how to properly maintain the building. Pole barns generally require very little maintenance; however, there are a few simple points to keep in mind to allow the facility to perform at its best over time.

Steel Siding and Roofing
One of the main points of emphasis should be the siding and roofing material. Make sure you inspect the metal siding and roofing of your pole barn annually.
Check that all material fasteners have stayed in place and are secure to maintain that sealed protection against the elements. Poor weather conditions can cause wear and tear on your siding and roofing. If properly checked one can prevent the long term negative impact of wind, snow and rain.
Many owners also power wash the exterior siding panels annually to remove dirt and grim buildup which will allow their buildings to keep that "like new" luster over time.
Most post frame buildings have metal siding and roofing panels that cover the structural wood frame. Depending on the type of metal and paint system installed when constructed; one can see the difference in the long term appearance of the system.
If you went with a premium grade Galvalume panel with the Kynar paint system you will notice very little chalking or fading over time. However, if you went with a less durable galvanized polyester paint type system the chalking and fading will be apparent within the first few years of service.
Ventilation and Weather Seals
Along with your siding and roofing you should also check to be sure that your ventilation system is in place and working properly. This will help maintain adequate attic airflow to keep your building condensation to a minimum over time. If you installed a form of insulation, be sure that everything is in place to allow it to provide the proper benefits.
Check and maintain all door and window systems. If windows and service doors are installed it is important to check that the weather tight seals are clean and functioning properly. Most should be cleaned and properly lubricated annually for top performance.
If overhead doors were installed it is important to check that the exterior weather stop seals are in place to provide proper protection from the elements. Inspect and replace if necessary to prevent long term damage to door jambs and openings.
Sliding doors need to be inspected and adjusted periodically to help maintain proper functionality. Hardware and rollers should be checked and lubricated annually along with adjustments to tracking and locking system if required.
Hence; if you perform regular maintenance and inspections on your post frame building, you'll be able to spot most potential problems before they arise. By spending time now doing a little routine maintenance you will help avoid costly problems down the road.