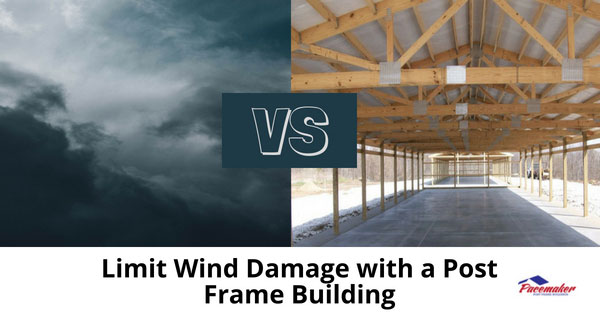 During high winds; post frame construction has a true advantage over traditional building methods due to the fundamental structural diaphragm design. The reason boils down to the simplicity of design.
Basic Post Frame Building Design Difference
Post frame buildings are supported by sturdy load-bearing treated wood columns embedded at least four feet into the ground; often on concrete piers. Conventional structures do pour foundations or basements, but the structure of the building is fastened to the foundation above ground level. As a result, tornado-force winds are more likely to rip the stick-frame structure from its foundation because of the shear point created above grade.
What About the Roof of a Post Frame Building?
The roof structure of a post frame consists of engineered trusses properly spaced to accommodate maximum loads, roofing materials, and potential high wind and weather conditions. The trusses are attached securely to the top of the load bearing vertical columns. This connection creates a unified frame that extends from the top of the building to the bottom of the columns well below ground level creating the diaphragm design.
When high winds strike a well-built post frame building, the forces are directed downward through the columns and into the ground beneath.
Considerations When Designing a Post Frame Structure
If you are considering a structure or private residence in a high wind-prone region, make sure that your builder gives special attention to the design to minimize the potential for excess damage in case of a storm event. Note that this is a given with Pacemaker designs.
Here are some suggestions:
Prevailing Wind Direction and Positioning

Before the design process begins, you should understand from which direction prevailing winds may be most prominent. The design and even the orientation of the post frame building can minimize severe wind impact. A tool produced by the National Water and Climate Center produces a helpful tool to understand wind influences better.

Column Spacing

In standard circumstances, the eight-foot spacing is common. However, in potentially extreme conditions, adding more columns and spacing them at six feet will provide extra support. Additional horizontal girts will also add reinforcement in case of severe winds.

Hole Depth

The typical depth for the treated post frame pillars is a minimum of four feet. In locations where high winds and tornadoes are likely, going deeper may be advisable. Additional anchorage or cleats at the bottom of the columns may be needed, respectively.

Truss Connections and Bracing

Specifically engineered trusses are placed directly atop the individual load-bearing columns. These trusses should be secured with designed fasteners.  Additional connectors are also available to provide reinforcement if needed, respectively.

Cladding

Securing steel or other sheathing to the structure is essential to enduring high winds. Using screws instead of nails will further strengthen the exterior of the building.
Contact Pacemaker Post Frame Buildings
Pacemaker Post Frame Buildings is an industry leader in the manufacture, design, and construction of safe, storm-resistant post frame buildings. Staffed with engineering expertise, Pacemaker professionals can advise and supply the necessary elements to create a durable structure for suburban facilities, municipal buildings, fire stations, warehouses and more.
Check out the Pacemaker Post Frame Building website and learn more about the many benefits of this popular construction method in their Resources section.
Also check out the free, downloadable Post Frame Planning Guide to see how this practical, durable, flexible, and economical option can work for you.
For information regarding the durability of post frame construction in severe weather conditions, call Pacemaker at (888)-834-4448.