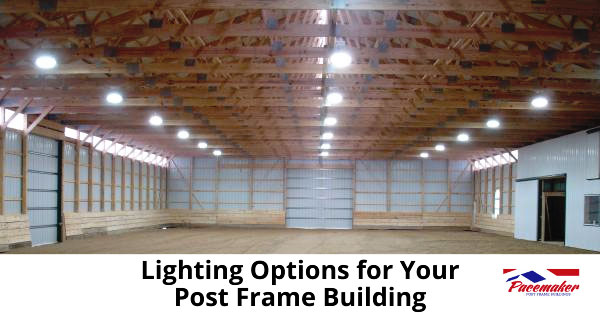 Whether you are building a commercial, agricultural, or other post frame building, lighting plays an essential role in the functionality. It can also affect the safety of your new structure. Let's explore lighting options for your post frame building.
For almost any use, lighting is essential. This is especially true for when access after dark is critical. However, if your building is to be used strictly for storage for agricultural purposes, for example, and likely only accessed during the day, limited lighting may be appropriate.
It is always a good idea to plan ahead for later changes in the building's uses. Therefore, consider adding and installing more wiring rather than the minimum, in case your needs change.
When you decide to build your post frame building, you may add in significant natural lighting sources. However, some artificial lighting may also be necessary. No matter what the building will be used for, substantial lighting can make a huge difference. This is true for storage, workshop, animal housing, or any other potential applications. And if you plan to incorporate an office, bathroom, or other space, extra lighting will be essential in those spaces.
Factors to consider when developing your lighting strategy for your new post frame building are as follows:
Develop a Lighting Design that Anticipates Your Needs
At the beginning when designing your post frame building, it is important to include as many windows as possible to admit substantial natural light during daylight hours. However, adding multiple windows may not be the perfect answer since interior partitioning and other objects can diminish the effect of the natural light. Plan to include at least some artificial lighting in certain areas, regardless of the function.
In most situations, owners will need to regularly access their post frame buildings after the sun goes down. If areas of your building are intended to be a workshop for servicing vehicles, carpentry, painting, or other activities, focused lighting is a definite requirement.
Working with a knowledgeable post frame company will help ensure lighting options you choose for your post frame building will be the right decisions.
Should you light the entire building interior?
Incorporating centralized, high-efficiency overhead lighting that will illuminate the main parts of the interior with the flip of a switch is a good idea. When coming inside from a darkened exterior, interior lighting gives you an instant view of anything that may be going wrong or out of place, and it lights your path throughout the building.
What lighting is needed for special work areas?
Depending on their use, you may plan to concentrate most of the lighting in areas where you expect to be working such as a workshop, workbenches or office. Focused lighting is essential when performing maintenance or repairs that involve close-up, detailed work or handling of small parts.
Or if you will be doing paperwork or other office-related activities after hours, good lighting is also essential.
How About Exterior Lighting for My Post Frame Building?
Exterior lighting is vital for building and personal security. It also ensures access ways are safe to navigate when it's dark out. Many owners opt to install a system of lighting with motion-activation systems around the perimeter to illuminate when someone or something is moving nearby.
This option will save energy while providing security lighting.
Types of Lighting
The types and styles of lighting appropriate for the interior and exterior of post frame buildings are extensive. However, the key considerations are illumination (lumens) and energy consumption.
Overhead fluorescent lighting can be appropriate for lighting the entire interior of the building. Consider spotlights for specific area lighting in work areas.
Motion-sensitive or photocell-controlled lighting works best for exterior lighting to ensure security. These often also turn off at dawn and automatically turn on at dusk.
Make Sure Your Plan Meets All Local Code Requirements
Electrical wiring for a post frame building can be relatively simple. Again, plan for ample outlets and lighting fixtures to accommodate future changes and growth.
Remember to consult with your local building officials to ensure your plans will meet building codes before you get too far into the design process. This can help eliminate any extra costs that could result from a faulty design. You should never start wiring your post frame structure before the plans are approved.
Contact Pacemaker Post Frame Buildings
Pacemaker Post Frame Buildings offers design expertise, state-of-the-art materials and hardware, accessories, and construction expertise to post frame building owners.
Experienced and knowledgeable with over four decades of experience, the professionals at Pacemaker understand the needs of their clients – whether it's for a post frame barn, equestrian center, vehicle shop or storage, or any other use.
Pacemaker Post Frame Buildings of North Webster, Indiana, is the premier post frame building supplier in Northern Indiana, Southwestern Michigan, and Northwest Ohio. Learn more about the versatility, functionality, and economy of post frame buildings by viewing our previous projects.
For questions about lighting, you can call the Pacemaker professionals at 1-888-834-4448.