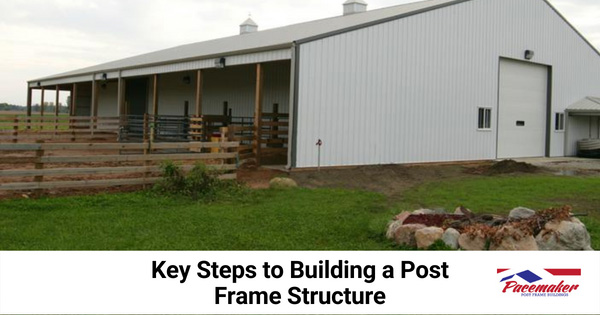 A modern, long-lasting post frame building is the best solution for almost any purpose. From concept to completion, a post frame building offers functionality, flexibility, aesthetics, and economical benefits. Let's look at key steps to building a post frame structure
Additionally, a post frame professional can help shorten the overall building process. They do this by:
Creating a precise building design that fits your needs
Ensuring easy site preparation
Requiring fewer materials and less labor
Having appropriate materials on hand when needed
 An accelerated construction process
Below are the key steps to building a post frame structure.
Step 1: Identifying Your Location
Identifying the location of your future structure can be simple or complicated, depending on several factors.
Do you have free space to position a new structure without disrupting the current flow?
Will the location accommodate the estimated square footage of the building?
If large equipment or animals will be housed in the building, is there room for maneuvering and entry?
Can the building be oriented to minimize severe wind and weather forces and provide optimal airflow?
Have you considered future growth plans?
Step 2: Creating a Plan
Your experienced post frame professional can help ensure your building's design will match your needs well into the future. Consider which features you would like to include in the building.
Total Square Footage: Determining the structure's size depends on how you intend to use the building. If the design is for equipment storage, you should make sure there is a large enough footprint to allow for maneuvering and access. You should also have sufficient space to be able to service the equipment. Similarly, if the building is for equestrian use, make sure you have sufficient room for stalls, current and in the future. Also consider the tack room, supply storage, wash bay, and open space for saddling and unsaddling.
Entry and Access:  Whether the building will house animals or equipment or both, make sure the doorways and angles of access allow for ease of movement.
Utilities: Will you need to heat or cool all or part of the structure for comfort? Keep in mind that providing a water supply is also essential for animals and humans.
Loft and Storage: Creating a second-level loft or balcony for storage or even an office is easy with a post frame structure. This option is easiest to include as part of the initial design.
Workshop and Office: Designs can allow for a separate workshop or office with climate control and other comforts.
Aesthetic or Code Issues: The design must meet all local code issues for appearance and other design features.
3. Securing the Building Permit
Once you have the location, blueprint and site plan for your project, you will need to submit these to the local building authority for approval before starting the project. Your experienced post frame partner will understand all the standard requirements for your area, so this approval should be routine.
4. Site Preparation
In most instances, preparing the site for a post frame building is simply a matter of removing any vegetation from within the perimeter of the footprint and leveling the plot. Some angling will also ensure water flows away from the structure's base. All the newly graded earth then needs to settle. This will help to create a better surface for concrete pouring, if needed.
5. Building Construction
Before the construction begins, the post frame supplier will deliver all the components to the site for assembly. The key elements, the vertical posts, will be sunk four or more feet into the ground. This ensures they are well anchored, and will also be spaced appropriately according to the design.
From that point, assembly is relatively easy. The roof trusses and horizontal support elements connect with the vertical posts to create the basic skeleton. At the same time, installation of the siding, roofing materials, windows, doors, insulation, utilities, and specified architectural features create the final structure.
Contact Pacemaker Post Frame Buildings
Pacemaker Post Frame Buildings is an industry leader in designing, manufacturing, and constructing high-quality post frame buildings in Northeast Indiana, Southwest Michigan, and Northwest Ohio. These post frame professionals are available to help with any process phase.
For more information about Pacemaker Post Frame Buildings, visit the Pacemaker website. While there, you can view some recently completed projects that might help to inspire your thoughts about a future post frame building.
If you have questions or wish to set up a meeting with a Pacemaker Post Frame expert, call +1-888-834-4448.