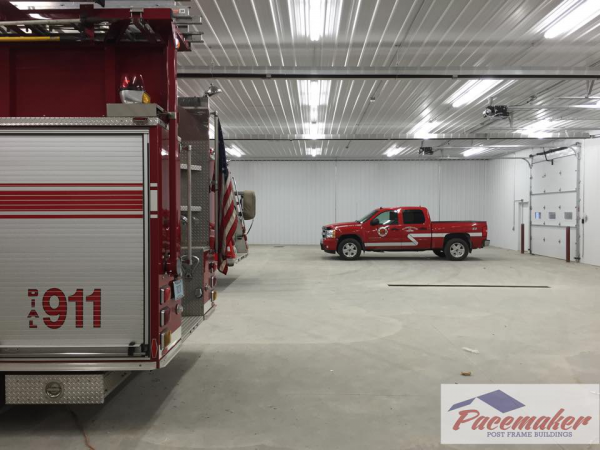 Homeowners or business owners accustomed to stud wall construction are amazed at the versatility of post frame buildings. Because of the endless variety in post frame construction, the interior is limited only by your imagination and budget.
Simplicity
At its core, such as a non-insulated agricultural or equestrian building, the interior is the back side of the exterior surface. This is typically the inside of the metal with the laminated post and horizontal 2×4 wood girts.

Any framed interior walls are non-load-bearing so that one can configure the inside space for stalls, storage or offices one may require. As your needs may change, one can reconfigure the interior walls without affecting the structural integrity of the building.
Open
Post frame buildings offer breathtaking open spaces under the roof and can typically accommodate spans up to 80 feet wide without any interior framing members. This clear span ability allows for an airy interior for your home or business which gives you a very flexible design to meet your needs.
Inside walls can be finished just as in a stick frame house. This means you can have insulation, cozy rooms, expansive gathering areas, windows, and drywall just as you see in other types of construction.
The outside of the post frame building has exterior girts (horizontal boards) to carry the sheathing; the interior can be finished off with interior girts for interior wall covering.
Insulation
The laminated ply post in a post frame building support the roof and carry the walls as a complete engineered diaphragm system. All that is needed to finish the interior are 2×4 horizontal framing members running 24 inches apart from the floor to the ceiling on inside face of the columns.
Typically this system allows for thicker outer wall cavities to place insulation allowing one to get tremendous R-value which often can exceed an R-19 just from fiberglass batt insulation.
The finished interior wall surface such as sheetrock or T-111 will provide additional R-value to the complete system.
Thermal Break
A common practice with the luxury of these thick exterior walls is to break the thermal transfer between exterior and interior making an insulated occupied post frame building extremely energy efficient. These thermal breaks can incorporate rigid foam board, blown insulation, or expanding foam.
By building in thermal breaks one separates untreated outside air from treated indoor air improving overall heating and cooling. Thus, lowering your energy costs and making the interior snug and comfortable.
Interior Surface
For some uses such as a warehouse or commercial space; insulation and a steel liner finish may be an adequate interior finish. However; for vacation getaways, gymnasiums, religious centers and similar use type buildings, the interior walls can be finished to the same high standards as any other showpiece.
Because of its design a post frame building can easily allow for interior stone or brick veneer for a fireplace or major accent wall. Just as with platform framing, drywall can be textured, painted, or receive wood wainscoting, crown molding, and baseboard.
Drywall is easily attached to interior girt members or 2×4 horizontal members. Walls run plumb and true even along; for example, a breadth of a 30-foot living room wall bearing hunting trophies or generations of beloved family photographs.
Ceilings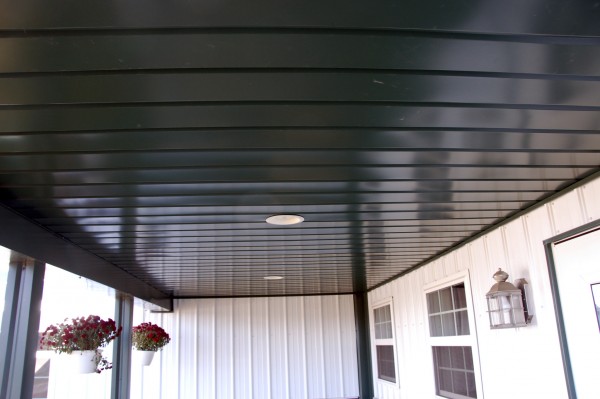 A post frame building's ceiling can be so eye-catching; it can become an overall design feature of the building. Rafters can be left exposed or a ceiling can be installed on the underside of the trusses.
Trusses can be design engineered to allow for a vaulted look and feel as well providing both aesthetic and functional appeal.
Limitless
With a post frame building, you face virtually no limitations on designing the interior space of your dreams. Contact us with any questions you have. We're happy to help!