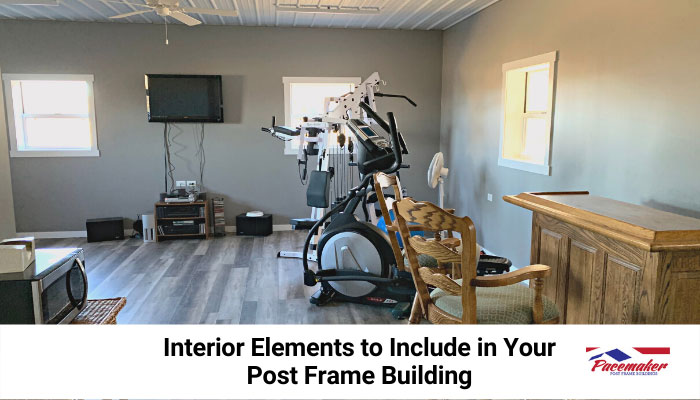 As we begin to think about all the interior elements to include in a post frame building, we would like in our post frame building, the list can become endless. Obviously, the internal features depend on if it's a barn, workshop, garage, equestrian center, or a combination of these. However, budget and space considerations are always critical parts of the equation. Careful planning and design with help from your post frame supplier are essential to getting what you want while keeping costs down.
In many instances, prioritizing your needs will be necessary.
Creating a Purpose-Driven Design
When planning the interior, the primary function of the building will play the leading role in determining design details and materials.
Add a Second Level
One of the first considerations may be optimizing the cubic space by adding lofts or balconies. These areas can provide supplemental storage, including a place for gravity-fed materials or liquids. Or they can even incorporate an office. However, owners must ensure that the height of any vehicles or equipment will not create a problem later on.
Soundproofing
In some situations, noise generated within the building may become a problem for neighbors. Soundproofing materials around the interior walls may become necessary. This is a vital consideration while planning.
Heating and Insulating
Not all post frame buildings require a complete heating and insulation system. Workshops, offices, and temperature-controlled storage areas require some temperature control, so this element must be a core consideration. Within vehicle storage garages and workshops, you may not need the extra warmth. But remember that when mechanical work is required, the mechanic will perform better in reasonable temperatures. Temperature control for your entire building or designing fully insulated work areas can be the best option.
Choosing the Best Material for Post Frame Interior Walls
Your expert post frame building supplier can recommend a range of interior claddings along with their advantages and disadvantages. You may also choose to combine these interior materials to provide greater functionality and lower cost.
Plywood
This material is versatile, attractive, and easy to install or replace. While this option is often desirable and with insulation, provides a cozy, appealing atmosphere, it is the most expensive option. Plywood is an excellent option for the office or tack room. However, it is not necessarily a great solution for the entire structure.
Drywall
This material can deliver an upscale look when applied to the walls and ceiling. Note the design will require stud-wall framing to attach the material to but can be used anywhere inside. Especially since no interior walls will be load-bearing. Often builders will apply a layer of plaster over drywall to decrease the potential of moisture absorption and damage.
Steel linings
These packages are durable, attractive, and protect the insulation barrier beautifully. Steel lining is also more energy-efficient than plywood or other manufactured materials. Although more robust and durable than other materials, steel surfaces can become dented or even punctured by forklifts and other heavy equipment. While you can replace panels, the costs can add up. Steel lining for walls or ceilings can muffle sound and last a lifetime in most cases.
OSB (Oriented Strand Board)
This is a less expensive option and is not considered as aesthetically attractive as plywood. Unfortunately, the OSB material does not absorb paint or stain very well. But OSB is available in 12-foot sheets, making it easier to install. Unfortunately, OSB absorbs moisture quickly and even swells with water. Thus, it is not an appropriate interior solution for many applications.
Consult with a Post Frame Professional
Before you begin in earnest, consulting with a post frame professional like Pacemaker Post Frame Buildings is the best first step. With decades of experience, the Pacemaker design-build team can highlight important considerations, share past experiences, and help to establish the timeline for a successful post frame completion.
Pacemaker Post frame Buildings is located in North Webster, Indiana, and has effectively served building owners throughout Northern Indiana, Southwest Michigan, and Northwest Ohio for four decades.
When visiting the Pacemaker Post Frame website, individuals can view a wide range of beautifully completed post frame projects on their Projects Gallery.
To brainstorm or discuss specific issues related to your post frame project, contact Pacemaker Post Frame Buildings at (888)-834-4448.
Or, if you complete the simple Contact Us Form, one of the Pacemaker Post Frame experts will contact you immediately to discuss your project.