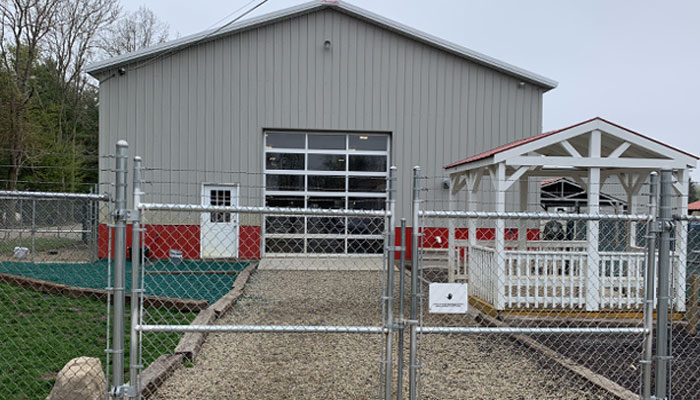 In many instances, the principal reason home, farm, municipal, and business owners choose post frame construction over other building types is because there are no load-bearing pillars and walls within. Vehicles and machinery can be easily maneuvered without obstruction while large objects may be placed, serviced, and stored easily. As a result, post frame structures often require larger doorways than conventional structures. What are the right doors for your post frame farm shop?
Post frame farm shops demand even broader access. Whether working on tractors or other farm equipment, woodworking, storing farm equipment, and more, having ease of access is critical.
Calculating the size and type of doors for your post frame farm shop will begin with how you plan to use the structure. Remember that sometimes your priorities for the building may change over time, so you may later wish you had installed larger doorways.
One notable advantage of post frame structures is that the doorways can be widened more easily than with "stick" frame or masonry structures. The vertical supports are spaced at least eight feet apart, so modifications become much easier to accomplish even after building.
Planning and Selecting doors for Your Post Frame Farm Shop
If your farm shop is intended to accommodate tractors and other large equipment such as harvesters, you will need to ensure that the access is wide and tall enough to allow for easy entry. The dimensions should be sufficiently sized to admit the largest vehicle you expect to store.
For example, a full-sized combine may require an entry that is well over 20' wide and perhaps 16' high. Knowing you will prefer to service and store these larger pieces of equipment away from the winter elements, you will need to design your shop accordingly.
Types of Doors
Determining the type of doors to install is a matter of style and functionality. The three most common types for an agricultural post frame structure are:
Overhead Doors
Much like the typical garage door, overhead doors open upward either manually or with an electric door opener. These doors can be up to 30' in width and are perfect for large equipment and frequent access. These can be the most practical option for most purposes.
Sliding doors
Sliding doors are usually the least expensive of all options. These can consist of one or two pieces. The single slider will move right or left, as needed. Two-piece options will open at a center point, and the halves slide away from each other. These can be mounted on the outside. Alternatively, in cold climates, on the inside of the structure to prevent blockage from snow or ice.
Hydraulic Doors
Hydraulic doors are heavy-duty and can be extremely wide. Aircraft hangers frequently use this type of door. As well they are also popular choice for access by large farm machinery and equipment. Outfitted with hydraulic lifts to swing the door outward and up, these also create a rain-protected area for working outside.
Level the Approach
During the design phase, care should be taken to ensure that the area of approach is sufficient to accommodate large vehicles and equipment where appropriate. Also, terrain need to be smooth and slightly angled downward and away from entry. This practice allows water to flow away and minimize potential flooding risk.
Adding Man Doors
Strategically place a man door or two, so you will not have to raise or slide a massive door every time you enter or leave with smaller objects. Doing so also helps to preserve energy and keep warm or cool air inside the building.
Pacemaker Post Frame Buildings
Post-frame buildings are ideal for many applications. Whether for a farm shop, storage building, equestrian center, fire station, or even a school annex or personal residence, post frame buildings are versatile, practical, stylish, and affordable.
For information regarding post-frame applications, contact the experts at Pacemaker Post Frame Buildings. While on the Pacemaker website, you can view many of our remarkable projects and see how many ways modern post frame buildings can work.
For more information, phone the experts at Pacemaker Post Frame Buildings in North Webster, Indiana, at +1-574-834-4448.