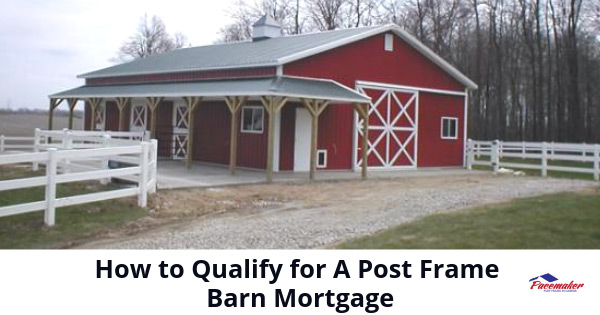 Qualifying for a mortgage for a post frame barn, equestrian center, or other agricultural building is not so different than for any other building. However, because the completed cost and operating expenses of a post frame barn are often less than with commercial or steel buildings, qualifying may be simpler.
In fact, some lenders specialize in financing post frame or post-and-beam agricultural and commercial buildings and even post frame residences.
Quality Construction Merits Financing
With today's techniques and materials, modern post frame structures can meet FNMA approval and fixed rate requirements if they are to be, even partially, designated as a residence.
But future owners of post frame barns used strictly for agriculture can have an easier avenue today to secure full financing. The key is to shop around for a bank that specializes in this type of financing.
We recommend these financial companies:
The First National Bank of Monterey

1049 Lakeshore Drive
Culver, IN 46511
574-842-5142
www.fnbmonterey.com

First Farmers Bank & Trust

123 N Jefferson Street
Converse, IN 46919
765-395-3316
www.ffbt.com

1st Source Bank

PO Box 1602
South Bend, IN 46634
574-235-2000
www.1stsource.com/li>
Many banks across the country understand the value that a practical and long-lasting post frame barn brings to an active farming business.
Check out your options before you proceed.
HELOC Borrowing Option
Always a practical option for a homeowner with sufficient equity in their residence, a Home Equity Line of Credit (HELOC) may allow you to borrow the necessary amount to construct the post frame barn by using your home equity as security.
The potential benefits of a HELOC are:
Typically, a lower interest rate for a longer period
Interest is often tax deductible, same as your home mortgage
Secured loans are easier to obtain
Risk is low since the value of your property or business will increase by at least the amount of the loan
Once a HELOC is opened, you may borrow against it again in the future as you pay down the existing balance
Paying Cash
Saving and paying cash is always an acceptable option for paying for a new post frame barn. You might tap your savings or sell some unneeded assets, and the benefit is that you will not have recurring payments. As a result, 100% of the building belongs to you or your business from the outset.

Financial Benefits of a Well-Designed Post Frame Barn
Whether you choose a loan or pay cash, post frame construction is often the least-cost way to proceed for several reasons:
Lower Cost. Cost-per-cubic-foot is often less than other construction methods due to efficient use of materials and labor, lower energy usage, shorter time to completion, and frequently less site preparation.
Right-Sizing and Expandability. Post frame buildings can be built for present and near-future needs, keeping in mind that expansion is a simple process. Because the vertical supports are widely spaced, adding to your original building is easier with post frame buildings.
Lower Energy Costs. Due to the wide spacing of the vertical posts, the sides and ceilings of post beam buildings are more uniformly insulated.

Contact Pacemaker Post Frame Buildings
For questions about the design or recommendations regarding the financing of a new post frame barn, contact the experts at Pacemaker Post Frame Buildings. Located in Northern Indiana and serving Northern Indiana, Southwest Michigan, and Northwest Ohio.  Pacemaker designs, manufactures, builds, and consults for post frame structures.
Common uses for Post Frame Buildings:
Agricultural
Equestrian
Commercial
Municipal
Residential
For over four decades, the Pacemaker professionals have helped forward the technology and applications of modern, durable, and attractive post frame buildings.
Visit the Pacemaker website to see examples of their many extraordinary projects.
Or, phone the Pacemaker professionals with any questions at 888.834.4448.