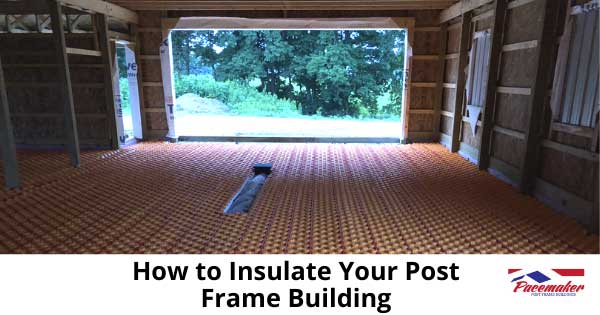 Besides their durability and versatility, well-insulating a post frame building makes it extremely energy efficient. As we know, weather in the upper Midwest can be extreme in the summer and winter months. Temperatures often range from below 0°F to above 100°F. That said, let's explore a few tips on how to insulate your post frame building.
When temperatures reach extreme levels, keeping your post frame building comfortable for humans and animals can be a severe challenge. However, well-insulating your post frame building will result in easier temperature control. Additionally, the burden on your HVAC system can be considerably reduced with a well-insulated post frame structure.
With post frame buildings, insulation is often easier to install and far more efficient than conventional building methods. Although proper insulation requires an upfront investment, the savings in energy will pay back many times over.
Tips to Insulate Your Post Frame Building
Flooring Insulation
Many post frame buildings that house animals or farm equipment do not require a finished or concrete flooring. However, you can still enhance the R-value by insulating around the structure's perimeter. The best way to do this is with two-inch perimeter insulation on the interior of the skirt board.
If you chose to add concrete or finished flooring, you could also add horizontal insulation across the entire floor. Thus an additional way to conserve energy. When you install in-floor heating for all or part of the structure, applying insulation first will reduce energy loss as well as costs in the long haul.
Wall Insulation
A significant advantage of post frame buildings is that the widely spaced (6-8ft) vertical posts allow for uniform application of insulation material throughout. With "stick frame" structures, wooden studs are spaced closer together, allowing energy to escape easier.
Appropriate types of insulation applied from within include:
Fiberglass Batts
Sprayed Polyurethane Foam
Rigid Board Insulation
Applying fiberglass batts, SPF, or Rigid Board insulation in a post frame structure is far easier than with other building types. The wide vertical post spacing demands less cutting and shaping, therefore leaving fewer breaks and gaps that allow energy to escape.
The interior insulation is typically covered with a condensation barrier before the finished wall cover is applied to help reduce moisture and provide another air filtration layer.
Attic or Loft Insulation
If you have chosen to add an attic or loft to the building's interior, you will require temperature control within the space. Whether the area will store sensitive supplies or become an office or den, additional insulation is essential.
Applying fiberglass batts or blown foam insulation will seal up the ceiling joists for a uniformly insulated space. And if the attic room is fully enclosed, the walls can also be insulated.
Roof Insulation
Without an insulating barrier, abundant energy can escape through your building's ceiling and roof. Typically the most efficient way to insulate is by applying a steel ceiling with a moisture barrier between the blown attic insulation.  Finally, because of the raised truss heel height typical with post frame one can apply a thicker layer of insulation in the attic space creating a more efficient facility.
Contact Pacemaker Post Frame Buildings
For four decades, the professionals at family-owned Pacemaker Post Frame Buildings have created and perfected post frame building materials and techniques for customers in Northern Indiana, Southwest Michigan,  and Northwest Ohio.
To learn more on how to insulate your post frame building and the advantages of this type of construction for agricultural, commercial, civic, and suburban applications, visit the Pacemaker website. There you can see some of Pacemaker's most recent projects and learn about the many advantages of post frame construction.
Pacemaker, located in North Webster, Indiana, provides expert advice and service from design to completion.
For more information, call Pacemaker at 1-(888)-834-4448 today.