Post frame buildings are a very affordable way to erect the structure you have always envisioned for your commercial, agricultural or personal needs. This pre-engineered building system has a long history of exceeding quality and durability requirements and has formed the backbone of many large commercial industries.
With the advancement of technology it has become even more common to utilize pole building construction for all types of businesses. The only thing left is making sure you find a reputable post frame building contractor to properly implement the goals you're looking to achieve with a new building!
Looking for the Right Post Frame Building Contractor
As with any trade service provider you want to look first at the longevity of the company, and then at their reputation.
Of course, new companies should not be ruled out– However, one should consider overall length of time in business and whether the company specializes in post frame construction.
Does the company manufacturer their own building system or do they purchase a package of materials?
Does the company employ their own crews to construct your new facility or do they sub-contract out the work?
Who is responsible before, during and after construction for any issues that may arise?
Every company should be proud to show off their past work, which means that references should be immediately available – take the time to contact past and current clients to evaluate their experience with your short list of post frame building contractors.
Insurance: An Indispensable Attribute
Is the pole building contractor you are considering insured? This is an absolute necessity and should rank near the top of your evaluation list along with positive customer reviews.
Insurance protects both you and the contractor, so look for a company who carries insurance that provides adequate Workman's compensation, Liability and Builder's Risk Insurance – it is an upfront question that deserves an upfront answer. When erecting custom buildings for equestrian, agricultural, commercial or suburban uses, anything can go wrong and insurance is everyone's safety net.
Finally, does the builder have a managed safety program in place to protect both you and their employees? This should not be assumed. It's a key question to ask so to protect your interests.
The Quality of Post Frame Building Construction Materials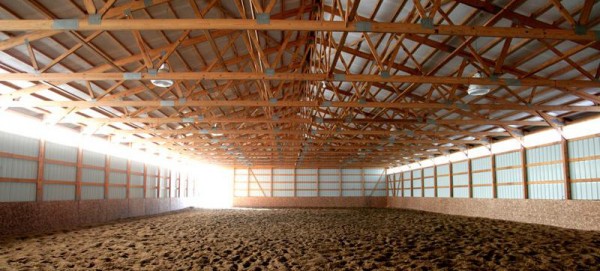 As you can easily guess, quality means everything. After all, you can not get the following comprehensive benefits of a post frame building if the components are sub-par:
Post frame construction is generally capable of supporting large snow and wind loads by using laminated columns embedded in the ground as the foundation. Additionally, your building can be completely more quickly without the need of a poured foundation. This translates directly to less of a load on your pocketbook, since the labor costs are also reduced.
The engineering methods specific to post frame construction allow for more usable interior space. The trusses and laminated post columns must be engineered to provide the quality construction strength that your facility requires.
The insulation properties of post frame has many advantages due to the thicker wall cavities and the ability to provide more attic insulation compared to other types of construction methods. This gained energy efficiency saves money year after year.
If you have questions regarding the reliability and increased popularity of post frame type buildings you may check with your local municipal building officials. It is highly likely that post frame construction is approved and being utilized as a viable economical alternative to other construction methods.
The Meat of Any Company: The Employees
Understanding who's working for you is imperative in any venture in which you're investing time, trust and money. Considerations should include:
Are they employed directly with the company performing the work?
How many years have they worked for the company?
Does the company have a training and safety program in place for all employees?
Are you considering a pole building project? Get our Free Planning Guide Download to help you plan and prepare ahead with a checklist of details you'll want to research. It includes details on ground prep, zoning considerations, how to hire a company and more!
If you are in the surrounding areas of Southwest Michigan, Northwest Ohio or Northern Indiana, feel free to give Pacemaker Buildings a call at (888) 834-4448. Contacting Pacemaker Buildings today will allow you to take advantage of superior technology, quality workmanship, and four decades worth of experience to help you realize your post frame building dreams!