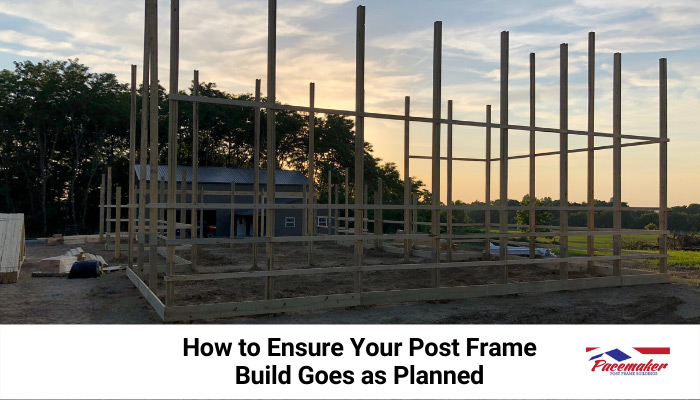 Planning and anticipating potential issues is essential to ensure a timely, hassle-free post frame building. Partnering with a proven and reliable post frame building partner is vital if you want your post frame build to go as planned. Today, in light of the supply chain disruptions and delays, clear communication and planning are more critical than ever before.
Fortunately, since fewer components are involved, the post frame building process tends to be less vulnerable to supply disruptions than other conventional building methods. Nevertheless, delays can happen, and building owners need to be aware of possible issues.
Dealing with Delays
Building supplies, in general, are currently in high demand and are facing a short supply situation. Many contractors are experiencing delays, shortages, and higher prices. Many of the shortages and disruptions are for lumber and drywall, doors, windows, and decking materials.
Along with high demand and inventory loss due to fires, the Covid-19 pandemic has also contributed substantially to lessening inventory. This is due to staffing issues and restrictions, including many temporary mills and plant closures.
Only the best, most diligent post frame suppliers can help to mitigate many of the supply shortages. Keep your post frame project on schedule and budget by using the expert team at Pacemaker Buildings. Planning for contingencies is also a critical step to avoid current challenges.
How to Avoid Failure When Building a New Post Frame Building
Proper Planning
Building a new post frame barn, equestrian center shed, workshop, garage, or civic building demands comprehensive planning and forethought. You should always take ample time to research your needs, and identify the best location. Consult with a first-class proven post frame builder to make sure every element you need is in your plan.
Learn about the building codes so that oversight does not cost you later or delay the project. Are there restrictions in your area? What permits do you require? Study and incorporate plans for septic, utilities, and water before beginning your planning. This will allow you to choose the location and size of your building more accurately while being fully in compliance.
Accurate Budgeting
Determining your final cost is essential. This is where your post frame professional can help you understand what you need and how much it should cost. With extensive purchasing power, a company like Pacemaker Post Frame Buildings of North Webster, IN, will be able to help secure the best available pricing for your project.
Having Sufficient Funding
Don't rush the project. Make sure you have sufficient resources, whether you borrow or save, to handle the entire project. While this part goes hand-in-hand with your planning and budgeting, do not start the project until you are sure that you have more resources than the budget will demand. After all, even though post frame projects take less time, require less skilled labor, and demand fewer materials, sometimes surprises will occur that can impact the total cost.
However, if your planning and budgeting are thorough, cost overruns should be minimal or non-existent.
Don't Change the Plan
Sticking to the original plan and budget is best to ensure successful completion. Changes can cause severe cost increases and, inevitably, delays in the process. However, having a buffer in your budget can allow for some smaller changes in finishings and details.
Use a Proven, Reliable Post Frame Builder
Leading post frame designers, suppliers, and builders like Pacemaker Post Frame Buildings of North Webster, Indiana, have led the industry for decades. With over forty years of experience in every kind of market condition, Pacemaker knows how to manage the successful completion of any dream post frame project. Letting Pacemaker Post Frame of northeastern Indiana help you plan, budget, and build your desired structure will save time and money while creating a long-lasting, highly functional solution.
You can view some of the many successful Pacemaker Post Frame Buildings projects by visiting the Gallery on the Pacemaker website.
Learn more by checking out the Pacemaker website or phone Pacemaker at 1-888-834-4448. The experts at Pacemaker will be pleased to discuss your post frame project.