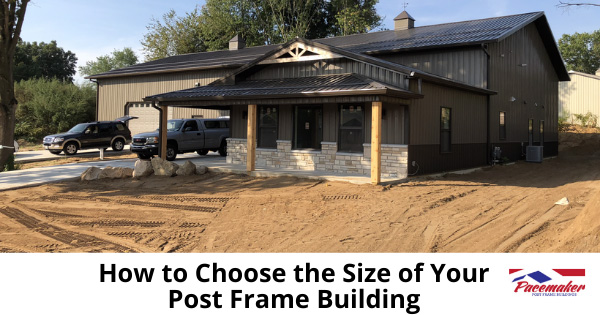 Determining how large your new post frame structure should be will depend on several different factors. The principal considerations will be the use of the building and what available land space you have to build on. These factors will help you choose the size of your post frame building.
For example, a warehouse or fire station will likely call for larger space needs than a workshop or typical horse barn.
Below are the main variables you will need to factor into your space calculations when planning for the size of your post frame building.
Primary Function and Space Requirements
How much space will you need to achieve the results you want?
Even with the most careful calculations, often you will wish for more space in a few year's time. During the planning phase, you should take an approach that allows for growth and expansion of your current needs.
Ensure that your plans will still fit within the limits of your budget and available space. It may be that you move the original placement to allow for an extension to be added later, rather than building larger now.

What will the structure be used for?
If the structure will be used for housing motor vehicles and large equipment, you want to ensure you calculate enough floor space. The building needs to allow for easy maneuvering while also making sure you provide ample height and entryways for access.
Similarly, if horses, tack, and equipment are to be housed within your post frame structure, you must ensure you have enough space for the appropriate number of stalls. Note that a standard horse stall is 144 sq. ft. or 12ft x 12ft. You will also require additional floor space for a tack room, storage, and wide aisleways that allow for easy movement.
With storage and warehouse facilities, the vertical and horizontal space will depend on the volume of product that is managed. You will need to consider space for inventory dimensions, racking, forklifts, handling equipment, staging areas, dock space, and offices. You may also want to include space for a break room and kitchenette.
Every post frame building calls for different requirements depending on its primary use. Post frame building designs for schools, civic buildings, barns, workshops, and residences will all depend on the unique needs and requirements of each.
Available Space and Placement
Knowing how much space you need and how much you can afford is only half of the planning process. As you are calculating your optimal post frame building size, you must scrutinize your available space in detail. Does your site accommodate the footprint of your desired structure, including access, easements, and local code compliance? If you will be moving large equipment and vehicles, is there enough space for easy maneuvering?
Building placement is critical. The first requirement will be that the land can be leveled. This may be an additional cost depending on your property. Room to maneuver to the access point comfortably is also essential.
Expansion is Simpler with a Post Frame Building
If you will have sufficient land available, you could consider future expansion. This is great if you expect your business to grow, but your current budget limits the size of the current building. You should develop a blueprint that will allow for future expansion in phases. Post frame construction with its widely spaced vertical supports, is perfect as it allows for easier modifications. When the time is right, you can add to your existing building by opening the wall to your existing space.
Consider building the shell of the entire structure but only adding the finishing touches on the part that you need immediately.
Contact Pacemaker Post Frame Buildings
Pacemaker Buildings is a family-operated business with over three decades of experience in innovative post frame building designs. Located in North Webster, Indiana, Pacemaker provides expertise, building components, design consultation, and skilled construction techniques to many types of clients throughout Northern Indiana, Southwest Michigan and Northwest Ohio.
To view and understand more about the various applications and beautiful solutions created by Pacemaker Post Frame Buildings, visit the Gallery of past projects.
Practical and economical, Pacemaker post frame buildings are the right solution for many applications.
For more information, contact Pacemaker at +1.888.834.4448. You may also complete the simple Contact Us Form, and one of our post frame professionals will call you to discuss your questions.