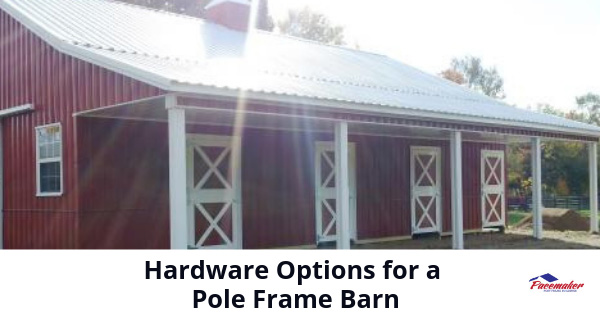 Pole frame or post frame buildings are descriptive terms for a framing and construction technique that provides durability and practicality for commercial, municipal, agricultural, residential, and retail construction. Pole or post frame building techniques first gained popularity as agricultural and equestrian buildings decades ago. While the method of construction has evolved with modern materials and techniques, the real advantages of post or pole frame building are readily apparent.
Post frame buildings are easier to construct, require less labor and materials, provide more open space for maneuvering, and, by design, endure high winds and devastating storms better than many conventional structures.
Pole frame buildings are extremely versatile. Depending on their intended use, the industry offers a full catalog of hardware options.
Choosing the Right Pole Frame Building Doors
A major decision for selecting the appropriate hardware will pertain to the type of pole frame exterior doorways to be installed. This decision depends on several variables, but the size of the opening is most important. Whether you will be entering and exiting with a truck or tractor or will need access for horses or other animals, the door opening must be substantial.
In any case, the type of door and the appropriate hardware will be an important decision. Doors and hardware can be both functional and decorative. In areas where snow and ice are a seasonal threat, the larger doors may be overhead garage-type doors that will operate without having to clear away snow from the entrance. These may also be sliding doors although placing the tracks on the inside is preferable.
In warmer climates, normal human-powered hinge doorways should work, although opening and closing large doors can be strenuous.
Hardware for the Right Purpose
Specialty door hardware for pole frame structures is available is many types and styles. Hardware can add to the appearance of the structure while providing practical advantages.
From a functional standpoint, the hardware design for a sliding door needs to be:
Handle heavy door weights that can range from 200 lbs up to 5,000 lbs
To manage sizes from 7' to 24' feet in height and up to 50' in width
The tracks and other materials for the hardware should be made from heavy gauge steel. Therefore to withstand severe conditions and massive loads.
Determining the Type of Hinges to Use on Swinging Doors
The type of hardware to install depends upon these factors:
Frequency: More robust hinges and hardware are important to survive frequent daily opening and closing.
Frame or Door Jamb Construction: Ensure that the material and construction of the door jamb are capable of withstanding heavyweights and stress levels.
Door Size and Weight: Heavier doors require heavy-duty hinge construction.
Hardware for Swinging Doors
For swinging doors, hinges are made from higher grade steel than for standard doors to withstand heavier loads. The finish for the hardware should be treated also to prevent deterioration in harsh weather conditions.
Manual or automatic doors need strap-type door hinges engineered to handle weights up to 5,000 pounds. Furthermore,  if properly mounted to substantial metal or wood door jambs can handle even higher weights.
Additionally, opening and closing doors frequently require sturdy hardware.
Contact Pacemaker Post Frame Buildings
For more information regarding the use and installation of the appropriate doors and hardware for your pole frame barn or equestrian center, contact the professionals at Pacemaker Post Frame Buildings. With over four decades of experience designing and perfecting post frame buildings, the experts understand the issues and advantages surrounding this affordable and durable construction.
Visit the Pacemaker website or call 888.834.4448 to find answers to any questions.