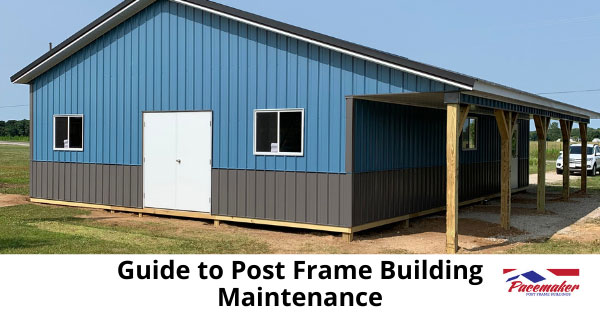 Periodic maintenance will keep your post frame building looking good and help maintain structural integrity, thereby serving its purpose for many years. Here are tips for post frame building maintenance.
Like any other building, ongoing maintenance is the key to a long and productive life. Moreover, with post frame structures, maintenance is often uncomplicated and straightforward.
Regular Visual Inspections
The most critical element to keep your post frame building top-notch is to conduct regular visual inspections of the entire structure. Consequently, this will enable you to detect any developing problems that may occur. You should also always inspect your building closely after any severe weather event.
During your regular checks, determine and identify:
The condition of the wooden posts
Any accumulation of moisture in and around the building
Roof and siding conditions
Gutter accumulations
Any presence of insects
Peeling paint, accumulating dirt and grit, or dents
Check the Support Structure
While properly treated and anchored wooden posts will last a lifetime, you should randomly inspect the condition of these columns. Particularly at ground level to ensure there is no deterioration developing due to excessive moisture, freezing, thawing, or infestation. If you should detect any of these problems, contact your post frame building specialists to develop a strategy that minimizes long-term ramifications.
Address Excess Moisture Issues
Assuming the footprint of your building was graded correctly to facilitate proper drainage, excessive moisture can still result from condensation due to high humidity. While this is true with any structure, the condition can damage materials and equipment kept within.
Solutions include:
Installing a vapor barrier that restricts the development of high levels of moisture
Boosting the ventilation within the structure
Investing in a quality dehumidifier
Installing temperature control
Revisiting the floor and perimeter drainage conditions to ensure water is not accumulating anywhere
Look for and repair any leaks and drafts around windows and doors to keep the weather out. As a result, this will help to reduce exposure to moisture and extreme temperatures.
In some instances, more than one of the following suggestions may be effective.
Cleaning Siding Regularly
Extend the lifespan of your post frame building with a beautiful appearance that makes you proud. Therefore, clean your siding annually to enhance the beauty of the building, increase its life, and minimize the upkeep. Furthermore, regular scheduled annual cleanings will extend the life of the siding and keep your building looking bright and fresh for years to come.
Check the Roof
Whether metal-clad or shingled, keeping the contents of your building protected highly depends on the integrity of your roof. Therefore, check the condition of the roofing materials in detail each spring after the winter weather subsides. As well as in the autumn before it returns. From inside, you should look for any cracks or openings to see if any pinholes of light shine through. Ensure you repair these before the problem gets worse.
Also, make sure your gutters are cleared each spring and fall to prevent further buildup.
Look for Bugs
With any structure, wood-chewing insect infestation can be a significant problem. The most vulnerable locations are near the ground level, so treating the wood annually is excellent prevention. If the situation gets severe, contact your local pest control experts.
Experienced and Professional: Pacemaker Post Frame Buildings
With over four decades of experience in design innovation, manufacturing, and building durable and versatile post frame buildings, Pacemaker Post Frame Buildings of North Webster, Indiana, has served thousands of satisfied customers in Indiana, Michigan, and Ohio.
Working with company-employed crews, Pacemaker designs and builds beautiful post frame buildings that are energy-efficient and long-lasting for many uses, including:
Agricultural
Commercial
Suburban
Civic
Storage
Equestrian
To learn more about the benefits of modern post frame buildings and see many of the remarkable finished projects, visit the Pacemaker website.
If you have questions and wish to speak with a post frame professional, call Pacemaker at (888)-834-4448.