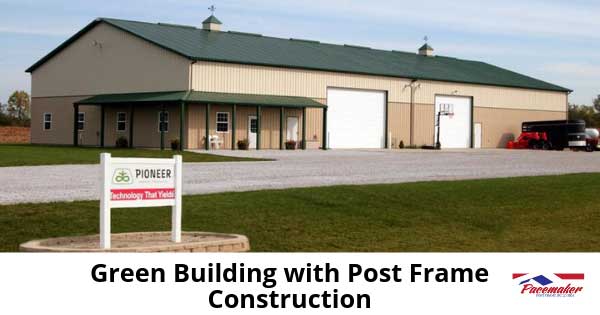 For energy conservation and sustainability, post frame methods stand out among various other construction methods. Especially, when green building with post frame construction. The heavy vertical beams and roof framing used in post frame construction are made from wood. Wood is the "greenest" of all building materials.
The world struggles with environmental issues and the depletion and pollution of our planet's natural resources. Many companies are committed to finding creative solutions to make their products "greener" and more sustainable. One of the ways they are doing this is by setting a new sustainable standard.
"Green" Design Targets
Sustainable construction incorporates:
Minimal site damage
Safeguarding water supplies
Energy efficiency
Conservation of building materials
Green Building with Post Frame Construction
Post frame buildings score highest in all four sustainability criteria by:
Requiring minimal excavation for site preparation. Post frame structures only need a level-graded surface. Thus no need for digging deep foundations that disturb groundwater systems and natural drainage.
Implementing wood materials for the entire framing structure.
Using recyclable materials for roofing and structural components.
Reducing long-term energy usage with more efficient and uniform insulation systems.
Post frame and pole barn builders employ more recycled and recyclable content. Additionally, use more renewable components than other building methods. Additionally, post frame builders reduce their carbon footprint by limiting fossil fuel and energy use.
Sustainability of Wood
Wood has been an important construction component for many years. With post frame buildings, wood plays a critical role. By using large vertical posts anchored into the ground to stabilize the structure. As well, wood trusses attach directly to the framing system.
Wood is a renewable resource. For each tree that is removed to make lumber and wood products, three more can be planted. That then will grow to maturity in several years. Trees create oxygen that, along with other plant life, replenishes our atmosphere.
Furthermore, wood products require far less energy to produce than concrete, brick, stone, stucco, and petroleum products.
Energy Efficiency
Post frame construction is energy efficient.
The energy required for the production and transportation of wood material is far less than for any other construction material.
Also, less energy is expended in the construction phase. Due to the efficient use of materials allowing for a shorter construction timeframe.
Over a long period, insulated post frame buildings demand less energy. Because of the wide spacing between the wooden vertical beams. The insulation has fewer breaks through which energy can escape. The laminated posts are also excellent insulators themselves. In contrast to standard framing where insulation is squeezed into the narrow spacing between the studs. And as a result, leaves many more gaps through which energy passes more easily.
Post frame buildings have higher R-values (insulating value). More so than brick, masonry, or steel-framed structures.
Contact Pacemaker Post Frame Buildings
Pacemaker Post Frame Buildings is a leading manufacturer, designer, and builder of post frame materials and buildings. For over four decades, this Northern Indiana family-owned and operated construction company has created post frame buildings. Uses include fire stations, civic buildings, storage facilities, equestrian centers, churches, schools, and residences.
The experienced Pacemaker professionals will help you with the design, components, and the construction of your custom post frame structure.
Visit the Pacemaker "What We Create" webpage to see the extensive range of commercial, agricultural, civic, and municipal buildings they have created.
If you have questions about the quality, durability, and environmental friendliness of post frame buildings, contact the experts at Pacemaker at +1.888.834.4448.