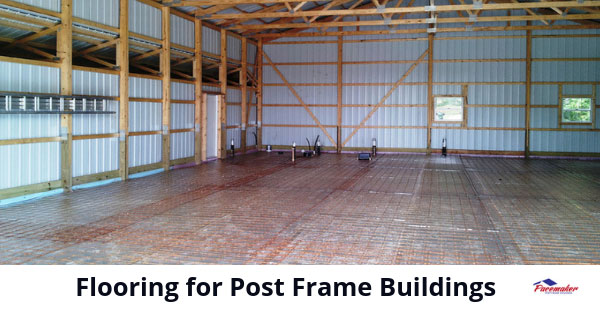 Flooring for your new post frame building is an important consideration.
The best flooring material for a building depends on the structure's intended purpose, the degree of durability required for the use, and personal preferences.
Post frame buildings that house and utilize heavy equipment and vehicles, as is the case with barns or automotive repair shops, should have a hard and durable surface capable of withstanding substantial loads and the potentially damaging impact of heavy objects. This weight factor is particularly crucial for production facilities, warehouses, fire stations, automotive service and repair, and, in many cases, modern barns and agricultural structures where heavy equipment is present.
Concrete is the Most Common
Concrete is the material of choice for heavy-duty, durable flooring. For many workshops or agricultural post frame buildings, a six-inch concrete layer poured over six inches of compacted gravel. Then covered by a moisture-resistant, insulating barrier is generally sufficient. However, when heavy equipment is involved, rebar or wire mesh added in the concrete layer is warranted.
In cold climates, insulating material should completely cover the entire sand or gravel base and extend from beneath the concrete at last six inches up the adjoining walls. This insulation, combined with appropriate wall insulation, will help keep the floor warm. Additionally. many owners choose to heat the floor with hot water tubing or electrical coils embedded in the concrete.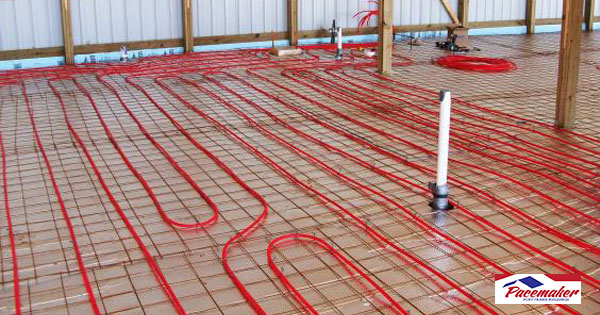 Note that local building codes may specify the minimum thickness and other attributes for floors.
Heavy Loads
The flooring must be strong enough to withstand substantial weight without cracking or damage. As a result, post frame building designers should calculate enough strength and reinforcement to withstand the weight of all equipment and vehicles.
When pieces of heavy machinery are stationary, the concrete flooring should be reinforced to accommodate the load. Since heavy equipment like cranes and tractors are mobile, designers must make sure the concrete surface is sturdy enough to support the weight of this machinery.
If equipment locations, sizes, or travel patterns should change in the future, the flooring must be a primary consideration.
Think about the Access Surfaces
The entry points and access surfaces outside the post frame building should be substantial as well. Moving equipment and heavy vehicles into the building requires a durable transition surface be in place.  This is not something to skimp on or neglect in your pre-planning.
When to Pour the Concrete
The best time to pour the concrete slab is after the shell and roof are in place. Pouring "under roof" also allows for heating elements to be installed. Thus, protecting them from rain or snow during the final stages of production.
Contact Pacemaker Post Frame Buildings
For nearly forty years, Pacemaker Post Frame Buildings has been a North American leader in the design, manufacture, and construction of modern post frame buildings. These structures include beautiful and highly functional agricultural, municipal, civic, equestrian, and residential structures.
To see examples of Pacemaker's diverse portfolio of projects and learn about their unique process, visit the Pacemaker website.
For more information regarding flooring or any other aspects of modern post frame construction, call Pacemaker Post Frame Buildings at +1-888-834-4448.
Alternatively, enter your information on the brief Contact Form with any question you have. A Pacemaker professional will contact you within one business day.