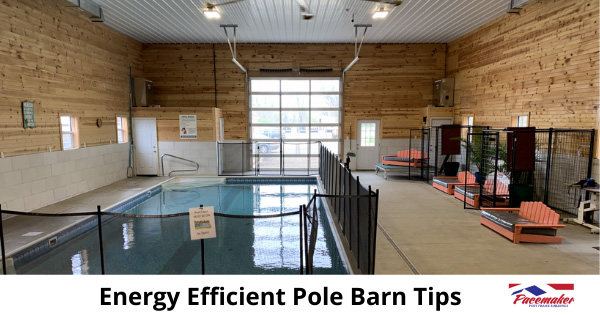 Many are aware of the practical and versatile advantages of a modern pole barn structure. However, energy-saving superiority is equally significant. Consider these energy efficient pole barn tips during the construction of a pole barn structure.
The fundamental construction of post-frame buildings with their widely spaced vertical support columns, allow walls and ceilings of the structure to be more uniformly insulated. Beyond the superior insulation advantages, there are plenty of other ways to make sure your building is energy-efficient.
Energy Efficient Pole Barn Tips
Start with the Insulation
Since much of the energy loss in a pole barn is through the high ceilings and roof, pay particular attention to this area during the construction phase. You will gain significant energy efficiency by installing a reflective radiant barrier beneath the roof surface. This material is composed of tiny air pockets that help insulate between the aluminum of the outer roof and the vinyl coating of the barrier material.
Consider the Color and Reflectivity of the Roof Material
In warmer climates, a lighter color roof will reflect a higher percentage of the sun's rays. This reflective roofing will save substantially on the energy necessary to keep the interior cool. In cooler climates, you may want to consider a darker color that will attract heat and warm the interior.
Low-E Glass Windows Keep Energy In
Low-E windows are designed to keep infrared light from coming into the building. As well as holding heating and cooling energy inside. The Low-E windows are coated with a transparent metallic oxide layer, which restricts the volume of energy that can pass in either direction.
Use Fluorescent Lighting
Fluorescent lighting uses far less energy than other types of lighting. If you need additional lighting specific areas, you should turn them on only when necessary. Today's LED lights are somewhat more expensive to purchase, but are highly efficient and will last far longer than the older incandescent lighting.
Landscaping Tips
When possible, position the building in the shade if your lot and the building footprint will allow. Try to orient the building for maximum shade during midday and afternoon hours. In warmer seasons, the shade can help to reduce energy bills substantially.
For long-term benefit, consider planting several deciduous trees that will eventually provide more shade. Besides saving money, your building will look more permanent and more aesthetically pleasing.
Properly placed trees will also help to act as barricades to the Midwest's severe winds. Evergreens and pine trees offer a substantial windbreak that will mitigate those icy gales that blow across the flatlands. Those forces can create wind chill factors that are well below the prevailing temperatures.
Use Energy Star® Appliances
Energy Star-rated appliances use less energy than standard appliances. The initial cost will soon be offset by the substantial savings in your monthly utility cost. Look closely at the projected pole energy usage data on all new appliances to determine what you will save. Think long term, not short term.
Consult an Energy Expert
During construction and even periodically after, consult an energy specialist to conduct a survey to identify any issues and provide feedback regarding your building efficiency. Audits will help you develop the discipline and awareness to be ever conscious of your energy usage.
Contact Pacemaker Post Frame Buildings
To learn more about the energy-saving and practical benefits of post-frame or pole barn buildings, contact the experts at Pacemaker Post Frame Buildings. Located in North Webster, Indiana and serving Northern Indiana and Southwest Michigan Region. Pacemaker offers decades of experience in perfecting the materials and techniques used for modern, high-quality pole barn structures.
Visit the Pacemaker website to view all kinds of outstanding buildings. For more information, contact Pacemaker Post Frame Buildings at 574-834-4448.