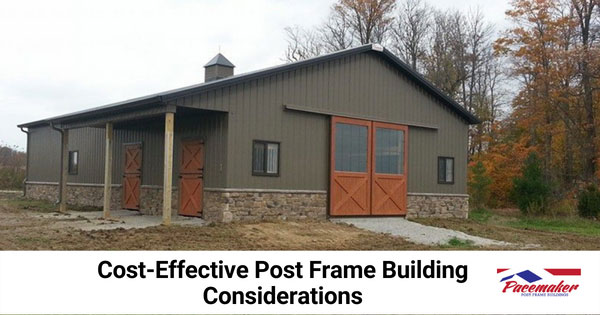 Post frame construction is the most cost-effective, least labor-intensive way to create the best possible agricultural, equestrian, civic, or commercial building. By design, post frame buildings use fewer materials and more straightforward site prep. This often results in a shorter time to completion than traditional construction methods.
Additionally, well-built post frame buildings are durable and can withstand high wind forces and severe weather better than many other building types. In this post, we look at what considerations make a post frame design cost-effective while still achieving the desired results and the right amount of space.
Site Selection and Preparation
Choosing the most efficient site involves several considerations. While identifying a footprint that demands the least amount of site prep work may save money, building owners should also ensure the location is the most efficient for future use. Ease of access is essential for vehicles and heavy machinery. Therefore, positioning for minimal maneuvering is an important consideration. Also, keep in mind the cost of preparing the approach, especially if paving will be necessary.
Length and Width Considerations
The next critical step is to calculate the desired square footage necessary to meet every need, now and in the future.
Assuming the proposed location and potential footprint are not restricted by lot lines or other structures, your post frame design expert should be able to help define the shape and dimensions that will be the most efficient to design and erect.
For example, an extra-wide post frame building can add substantial expense. This is because of the additional reinforcement required to support the extended width and weight. Reinforcement is particularly critical in regions where there is heavy snow.
Moderately rectangular structures or even square ones often do not demand additional reinforcing materials. Therefore, they will likely cost less to build.
Post Frame Height
Taller buildings are far more vulnerable to high winds and other stresses than shorter structures. Regardless of the building method, additional support materials will be necessary to maintain the vertical integrity of the building.
When a post frame building design approaches a height of 16 feet, designers must add reinforcement to the vertical columns. While the additional support helps the building withstand severe conditions, this activity means more labor and materials and higher costs.
Keeping the building height at or below sixteen feet is often the most economical approach.
Aesthetic Features
Non-essential overhangs, gables, alcoves, and other architectural features can add considerable cost. In many cases, aesthetic features can be added later on. Consider a more basic design in the beginning if you are looking to build the most cost-effective post frame building.
Work with a Professional Post Frame Designer
Given the owner's expectations, budget, and target square footage, a professional post frame designer can create a design that will perform all functions while minimizing the cost.
Pacemaker Post Frame Buildings of North Webster, Indiana, is a premier supplier, designer, and builder of high-quality post frame buildings. For over four decades, the professionals at Pacemaker have satisfied their clients with sensible and economical post frame buildings that will stand a lifetime.
To view many of Pacemaker's completed projects, visit the Pacemaker website Gallery. If you would like to discuss your project with a true professional, set up a consultation by completing the brief Contact Us form on the Pacemaker website. Or call Pacemaker at 1-888-834-4448 to discuss your ideas.