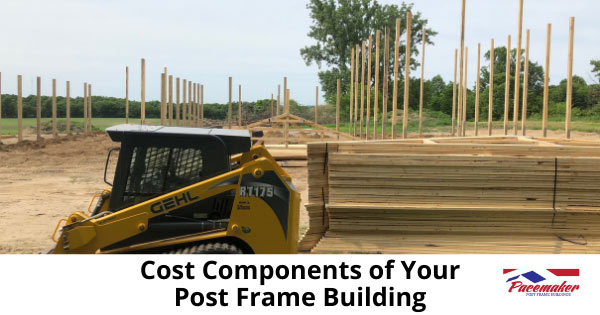 Planning and budgeting to build your post frame commercial building are similar to planning other types of construction. However, the process can be considerably less complicated. The design process is often straightforward. The cost components of your post frame building such as site prep, materials, labor, and time-to-completion can often be less compared to  "steel-frame" or masonry-type structures.
However, for a highly functional, and long-lasting commercial post frame building on a strict budget, owners must plan each stage carefully. This will help keep costs down and ensure the building is completed within the desired timeframe.
Working with a proven post frame building company can help you incorporate your vision into the design. Additionally, they can help you plan each construction phase effectively while scheduling labor, equipment, and components to be onsite at the appropriate time to minimize your costs.
Cost Components of Your Post Frame Building
Design
Creating a design for your post frame building is a crucial first step. When discussing your new post frame structure with your post frame building company, ensure you have a list of necessary features. This includes office space, equipment storage, vehicle sizing, parking and flooring, roofing, and siding requirements.
The interior should encompass sufficient cubic space for your needs in the foreseeable future. While future expansion is more manageable with post frame style construction, it can be a significant expense. Sizing it right initially allows you to move on to accomplishing your mission sooner.
For the exterior, just about any outdoor cladding or roofing materials can be used. Local codes may dictate some of your decisions, so make sure your design is compliant before starting.
Site Preparation
One of the most common costs that people often forget is utility connections. This can be a costly process if there are not already water, gas, septic, and electricity connections on your site. Depending on where your chosen site is, these connections can end up costing thousands of dollars in permits and installation. Ensure you check your local regulations and obtain any required permits before starting site preparation.
Aside from the utilities, site prep for post frame construction projects is relatively straightforward. As the structure is anchored by evenly spaced, sturdy vertical wooden posts built deep into the ground, all that is needed to prepare the land will be clearing and level-grading the area. If you need an interior concrete floor; typically the initial framing of the building shell will take place first.
Construction
The construction phase of post frame commercial buildings is often lower than traditional stick or steel frame construction costs. Typically, post frame structures do not require a poured foundation to be complete prior to the columns being set.  This cost savings along with a shortened time frame to complete often provides the most cost-effective build.  Many of the post frame components will be pre-constructed builds off-site and then delivered to the job site ready to be constructed together for an efficient time-saving project.

Finishing Materials
Naturally, the materials and labor costs will depend on the building's design complexity or additional aesthetic features. Often the most cost-effective materials are aluminum steel panels; however, these may not be suitable for all building uses. Consider the needs of your building and choose an appropriate siding material within your budget.
Depending on the use of your post frame structure, labor costs can vary. For example, an equestrian barn will cost more in labor and materials than a simple warehouse. This is due to the additional details and sectioning.
Additional Building Finishes
Commercial buildings intended for retail or other consumer services often need to fit in with the surrounding neighborhood. Adding alcoves, dormers, porticos, and features like brick or stone wainscoting tend to soften the overall appearance of the building. As well as providing a pleasing, attractive look.
Additionally, landscaping is also a cost to consider. This can make your new post frame commercial building fit naturally into the area. Furthermore provide an attractive destination for clients.
Pacemaker Post Frame Buildings
Post frame buildings are economical, durable, highly functional, attractive, and withstand the most extreme weather conditions.
Before starting, consult with an expert post frame company like Pacemaker Post Frame Buildings in North Webster, Indiana, to begin the process of designing and building your new commercial structure.
Visit the Pacemaker website Gallery of completed buildings in Indiana, Michigan, and Ohio to learn about the almost infinite number of possibilities for commercial, agricultural, equestrian, municipal, and suburban structures.
If you have questions, contact the experienced professionals at Pacemaker Post Frame Buildings at 1-888-834-4448.
Or, you may pose your questions online on the Pacemaker CONTACT US page, and one of the Pacemaker professionals will contact you promptly.