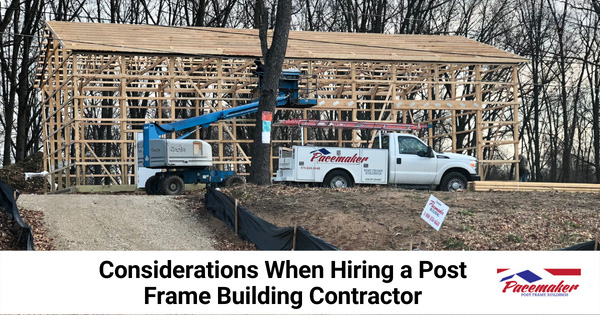 Identifying a proven, reliable contractor at the outset of any construction project is essential. After all, staying within budget, avoiding delays, and having ongoing communication are vital elements of a successful project. This is why having a secure and trusted contractor-client relationship is key. Here are some considerations when hiring a post frame building contractor.
While post frame construction requires fewer materials and labor and generally lower costs, specific considerations are essential when identifying and working with a contractor.
Once you select a post frame building contractor, developing an agreement that covers your needs is essential. Below are some crucial considerations to keep in mind.
Important Elements of Your Post Frame Contractor Relationship
Reliability and Reputation
A proven post frame material supplier and contractor should have years of experience. They should also have a positive reputation for completing projects on time and within budget. Do your research to ensure that the company has excellent planning, artisanship, and professionalism. Look online for reviews and feedback from previous clients.
A company like Pacemaker Post Frame Buildings of North Webster, Indiana, has been producing high-quality, state-of-the-art post frame buildings for nearly a half-century. They have proven their expertise and reliability many times over, and have reviews to prove it.
Costs
As a customer, getting what you want at the amount you budgeted for is vital to the building process. Your contractor should be able to provide a detailed explanation of the quality of materials, the labor, flexibility, time-to-completion,  site prep, permits, and all other relevant components. Ensure that the supplier can provide each element clearly in writing to the client.
Insurance
A responsible post frame contractor will always be licensed, bonded, and insured for any contingency.
Most importantly, insurance coverage must be in place to protect against the unexpected. After all, any situation that may cause the contractor to walk away can leave the customer with a hefty financial loss and no building.
Thus, clients should always secure a copy of the contractor's liability insurance policy. This will show which contingencies are covered before beginning the project.
Benefits of a Full-Service Contractor
Clients need to understand where the materials will come from and who will perform the job. A full-service post frame company like Pacemaker Post Frame Buildings manufactures all essential post frame components using precise specifications in their own plant. They also employ experienced building personnel to construct each building. Ultimately, the entire building process is handled by the same team.
Sometimes "skeleton" companies make proposals, purchase components from various lumberyards and vendors, then subcontract the entire building process. These scenarios tend to blur the lines of communication and accountability. This can often leave the prospective owner unsure of the outcome.
Establishing Reliable Time Frames
A proven, experienced post frame contractor knows how long each phase of the process should take. Avoid a company that works around subcontractor schedules. Instead, choose one that will ensure the right workers and materials will be on hand to complete the project on schedule.
The contract should provide a clear, detailed review of the timing of each part of the project. Any time target modifications can be made before work begins rather than after the project is well underway.
Policies Regarding Change Orders
While changes requested by the customer during the construction process can be expensive and somewhat disruptive to the original plan, they do occur. Clients should make sure that a Change Order Policy is written into the contract. This will allow for some flexibility at each stage if necessary.
Getting all plan elements set at the outset is the most efficient way to proceed. Your post frame contractor should offer suggestions during the planning process that will best meet your needs and make subsequent changes less likely.
Work with Pacemaker Post Frame Buildings
For decades, satisfied customers in Northern Indiana, Southwest Michigan, and Northwestern Ohio have benefitted substantially by working with Pacemaker Post Frame Buildings for their agricultural, commercial, civic, equestrian, and suburban structures.
To view photographs of many of their finished projects, visit the Pacemaker Post Frame Gallery on their website.
To make an appointment to discuss your project, call the Pacemaker office at 1-888-834-4448.
Or you may schedule an in-person consultation with a Pacemaker professional by visiting their website and completing the easy Contact Us Form.