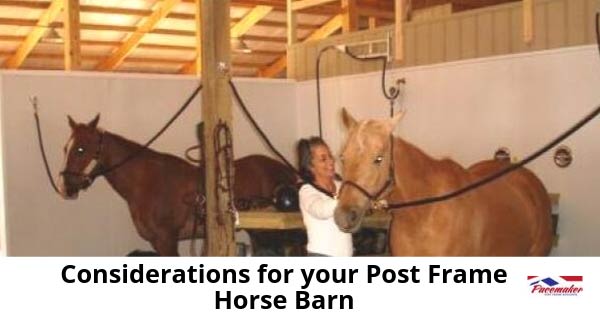 Modern post frame construction offers the ideal design for a horse barn or equestrian center. The large unobstructed space combined with a lofty roof structure and flexible interior space allows for ample mobility and storage capacity.
The flexible floorplan of your post frame horse barn should accommodate your changing needs and allow you to add, remove, or expand your stall and storage capacity as needed.
Here are a few factors you should keep in mind while thinking about your new post frame horse barn:
How Many Horses?
Just as when you look for a home for your family, the first consideration is how many will be living there. Your barn should be able to comfortably accommodate the number of animals you plan to house. Also, consider the future as well.
Horse enthusiasts occasionally underestimate the number of horses they plan to own or board, so make sure you have room for expansion if needed. You can always find a current use for the extra space, and the incremental cost per square foot with post frame construction is minimal.
How Big Should Each Stall Be?
Generally, each horse should have enough space to lie down, stand up, and turn around easily. The recommended size for most horses is 12' x 12'. However, having a larger space gives you more room to easily conduct your visual examinations, have a vet attend, attach a lead, or other engagement with the horse.
Wide Aisles are Useful
When leading one or several horses to and from their stalls or staging them for riding or washing, ample room is needed for the horses and people to maneuver easily. The main aisle should be at least 12' to 16' wide.
Wash Bay
To maintain the horses' health and to keep your post frame horse barn clean, a wash bay is very important. Functionality during every season is a must. The area should have durable flooring and be located away from the stalls, feeding areas, and the tack room. Ample lighting and, of course, a clean water supply is essential.
Make sure you that you have substantial drainage in the space to prevent water from backing up and flooding.
Washing a horse in an area that is too small can be dangerous. Design enough room to turn the animal around and leave plenty of space so you can manage any skittish animals.
Ventilation
Maintaining a clean atmosphere while keeping the air moving is good for both horses and humans. Post frame structures offer a variety of ways to provide natural ventilation. This can be achieved through open rooftop cupolas or overhangs that offer shade and cool air. Additionally, plenty of doors and windows can be left open when needed. You can even add ceiling and floor fans to ensure occupants stay comfortable.
Lighting
Natural lighting should be your primary source. Plenty of glass windows plus open windows placed beneath overhangs should be enough during daylight hours. At night, you will need to rely on electric lighting strategically spaced to allow visibility to all stalls and rooms within. You can also add security lighting around the perimeter.
Tack Room
A spacious, comfortable tack room is perfect for storing your tack, equipment, brushes, and other non-food supplies in a protected environment. You might also want to make this area your private office or relaxation area, the perfect spot to unwind.
You could also consider adding a bathroom with a shower, a kitchenette, and a TV area, as well, depending on your space and needs.
Pacemaker Post Frame Buildings: Experts in Horse Barns and Equestrian Centers
As you think about constructing or upgrading your horse barn, look for support from a post frame construction company like Pacemaker Post Frame Buildings in Northern Indiana. Primarily serving the Midwest and Great Lakes Region. Pacemaker will design, supply components, and construct the highest quality post-frame buildings for equestrian. commercial, agricultural, civic, and residential buildings. In business for over three decades, Pacemaker has been prominent in the technological evolution of modern post frame buildings.
For more information about building a post frame horse barn or equestrian center, call the professionals at Pacemaker Post Frame Buildings at +1.888.834.4448.