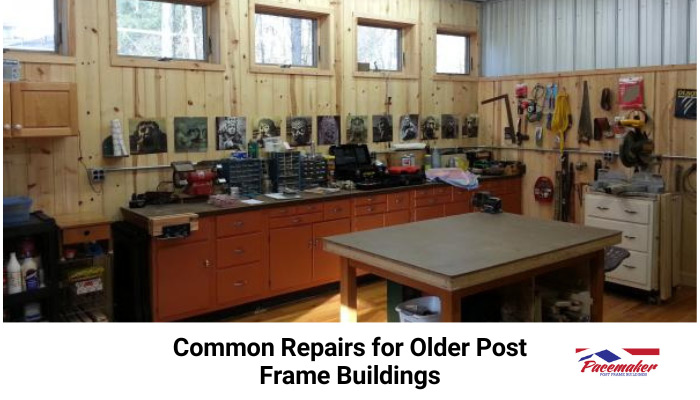 As time goes by, every building requires renovations, upgrades, or repairs. Even durable post frame buildings, which are built to last, need occasional refreshing to keep them looking great and working perfectly. For example, after decades of reliable service, the roofing material of your post frame structures may require replacement. Floors and windows might also need an upgrade, along with common hardware repairs like door hinges and fixtures. If you own an older post frame building, here are a few common repairs you may need to consider.
Replacing Post Frame Posts
Modern post frame buildings are constructed with treated wood vertical posts. These posts are often secured beneath the ground with metal collars or concrete piers to protect the wood and add stability. Both of these help to provide a lifetime of additional service.
However, earlier versions, built in the 1970s and before, commonly used timbers soaked in creosote. Creosote can protect against the invasion of moisture, oxygen, and wood-eroding bacteria that eventually allows the posts to rot. However, the creosote loses its protective qualities after years of exposure. Creosote is also not environmentally sound.
One of the common repairs of an older post frame building is post replacement or reinforcement. The process can be extensive, but the cost will be far less than replacing the entire structure.
Depending on the extent of the deterioration and type of floor, expert post frame contractors can reinforce the structure by installing new columns adjacent to the existing posts. With concrete flooring or foundation, installers will attach new columns to the current members and secure them with bolts.
For dirt or gravel flooring, the contractor will dig to the original base and secure a new column to create a substantial, long-lasting support system.
Repairing a Damaged Truss and Roofing
If a fallen tree or extreme weather has damaged your roof, a builder can install replacement trusses right next to the existing units.
This process means removing some or all the roofing material to access the underlying support elements. This situation could be an opportunity to replace all your roof covering with newer, brighter, and more damage-resistant material.
Upgrade the Flooring
Eventually, your requirements may evolve, and the original function of your post frame structure can change. The dirt flooring that was sufficient for some feed or equipment storage may now need to be durable concrete to accommodate heavy equipment.
Or perhaps you are converting your existing building into an equestrian center. Therefore you need to change some of the current floorings to a softer option for the animals' comfort.
Post frame building experts can make any of these changes with minimal interference and at a reasonable cost.
Replacing Doorways, Windows, and Hardware
Are your energy costs getting out of hand? Is the doorway too narrow to accommodate your new larger equipment?
In many instances, the solution to conserving energy in a post frame building can be window replacement. As in your home, single pane glass and gaps around the frames allow excessive energy to escape. Replacing those with energy-efficient windows can improve your space's ambiance and generate energy savings in only a few years.
Widening doorways can be essential to getting the most from your structure. The wide spacing between vertical columns in a post frame structure makes this modification easy and can enhance your building's usefulness.
To make your building more secure and enhance its appearance, replacing door hinges, latches, and locking mechanisms is another possible upgrade.
Contact Pacemaker Post Frame Buildings
For four decades, the professionals at Pacemaker Post Frame Buildings have been helping businesses and communities in Indiana, Southern Michigan, and Northwest Ohio to design and build the best structure for any purpose. You can visit the Pacemaker website gallery to view the wide variety of attractive and practical multifunctional buildings.
For any questions regarding the design and construction of new post frame structures or upgrades to existing ones, contact Pacemaker Post Frame Buildings at 1-888-834-4448.