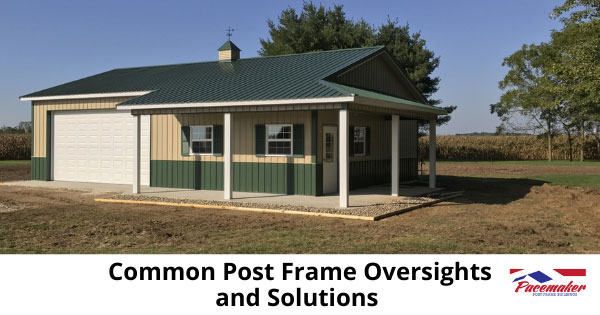 When properly designed and built, post frame buildings are the perfect solution for many uses. Due to their simplicity and economic benefits, post frame buildings are ideal for agricultural, civic, industrial, commercial, and suburban buildings. Here are common post frame oversights and how to solve them.
However, as we have learned with other construction methods, owners can experience considerable remorse. Usually, this is because they forget to plan appropriately or to include certain features that become important later.
A well-conceived initial design with input from a knowledgeable post frame expert can eliminate frustration. An original well-thought-out design can prevent the unnecessary expense of additions or changes needed later.
However, with post frame construction methods, adding an addition, later on, can often be relatively simple. Making other significant changes to an existing post frame structure is also much more straightforward than with conventional construction methods.
Common Post Frame Oversights in the Initial Design
While usually correctible later with post frame construction, here are some of the classic omissions that building owners regret once construction is complete:
Should have added a loft or deck
Upper levels or lofts can be significantly beneficial. Most owners benefit from the additional storage space for small equipment, animal feed, parts, tools, and just about anything else. Others might choose to use an upper level for climate-controlled office space or a den away from the main floor. A loft can add significant space to your post frame building while allowing the floor space to be utilized as needed.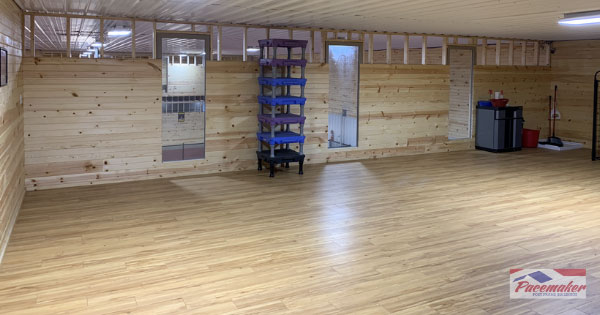 Did not plan enough floor space
The most common mistake is not allowing room for expansion. In the quest to keep initial costs down, many building owners run out of space in a few years. They then find that adding on is the only answer. Fortunately, post frame building additions are not as challenging to implement, as with other construction types. However, adding on is only possible if the real estate and the footprint of the initial construction allows. Otherwise, additional space above can be the solution. If you are expecting to expand as your business does, discuss this with your post frame expert. They can plan the building's location and layout to allow for further expansion on your property.
Wish for concrete flooring.
Concrete flooring makes any post frame building versatile and decidedly cleaner. These surfaces can accommodate heavy equipment and vehicles easily without the constant exposure to dirt and moisture buildup from earth or gravel flooring.
With proper design and preparation, a concrete floor can be added retroactively. Contractors should first ensure the base is graded correctly to allow for adequate drainage. Additionally, the concrete must be thick enough to accommodate the maximum load.
A Finished Interior would have been nice
At first, the idea of a finished interior in your post frame building may seem extravagant. However, as time passes, you will begin to see the advantages of having insulation and wall finish installed. Not to mention the benefit of sectioning some of the interior areas into dedicated space for offices, workrooms, and storage areas.
A well-insulated post frame building is energy efficient and can save a great deal of money while keeping the entire building comfortable.
When creating sectionalized spaces, interior walls can be installed and easily relocated since only the perimeter posts are load-bearing. This allows for easy changes as needed.
Adding Architectural Features
Some modern post frame buildings can appear to be practical and straightforward. Others can feature architectural elements that are both aesthetically pleasing and functional. Adding a porch, skylights, alcoves, wainscoting, and other claddings of stone, brick, or stucco can make a dramatic change in the exterior appearance. A cupola or two atop the structure makes the design more interesting and allows for airflow. Upscale windows and doors can create a sense of style while admitting more natural light.
Contact Pacemaker Post Frame Buildings
The professionals at Pacemaker Post Frame Buildings in North Webster, Indiana, have been serving clients in Northern Indiana, Southern Michigan, and Northwest Ohio with quality post frame components, designs, and artisanship for four decades. A family-owned company, Pacemaker has been a leader in the evolution and technology of post frame construction to become an economical and credible solution for many types of buildings.
To view a variety of Pacemaker's many high-quality finished projects, visit the Pacemaker Gallery on their website.
Or to discuss your project and future needs in detail, contact Pacemaker Post Frame Buildings at 1-888-834-4448.